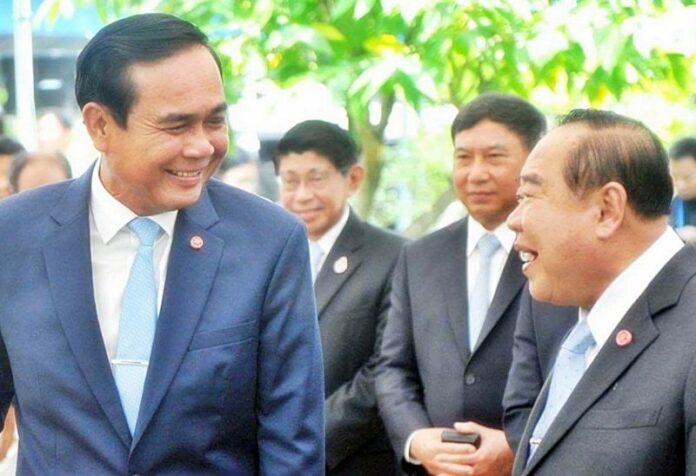 BANGKOK — When deputy junta chairman Prawit Wongsuwan was asked by reporters Wednesday if he believed the rumors his job is on the line, he had only one response.
"Why ask a thing like that, you bastards," the No. 2 boss of the National Council for Peace and Order said.
When his motorcade passed the crowd of reporters later, Prawit rolled down his window and fired another indignant shot. "Why were you asking that question? Nonsense!" he said.
The word on street, or at least the halls of power, in recent weeks is that the biggest cabinet shakeup in years could be underway, and even Prawit, a close aide to junta chief Prayuth Chan-ocha in the powerful post of defense minister, would not be spared.
By Thursday morning, the rumors further intensified with several reports that a list of new cabinet members compiled by Gen. Prayuth has already been submitted to His Majesty the King for approval.
Two political observers said failure to turn around the slumping economy is a major reason why Prayuth is considering reconstituting his cabinet a fourth time since seizing power in 2014.
Read: New Welfare Cards a Boost For Rich or Poor?
"The main reason is pressure against a lack of success in the NCPO's policies," Chulalongkorn lecturer and military expert Surachart Bumrungsuk said in an interview. "In the past months, the NCPO's government has not seen success in the economy."
Even opinion polls, which were infamous for previously claiming astronomically high approval for Prayuth's government, indicate the junta's popularity is trailing, Surachart said. A series of scandals involving alleged corruption within the regime may have affected the public's perception, he said.
Democrat Party executive Ongart Klampaiboon said low-earners are taking a hit from the government's mismanagement, and the prime minister must know he has to do something about it.
"The grassroots economy has many problems," Ongart said. "Poor people and people who live on day-to-day wages cannot make ends meet."
He cited a recent drop in rubber prices as an example. Many southern farmers, outraged by the plunge, have threatened to march on Bangkok to voice their discontent.
"It's not just rubber either," Ongart said. "Rice and other goods, like cassava are falling. They must do something to fix this problem, too."
Rumors of an imminent cabinet reshuffle broke in early November, when labor minister Sirichai Dittakul abruptly resigned, reportedly because he was upset at internal politics within the ministry.
Prayuth, who serves as both junta boss and prime minister, is required by law to fill in Sirichai, and many speculate the general would take the opportunity to shuffle other seats, too.
Ongart urged Prayuth to use the chance to fix problems by appointing competent people instead of handing the seats to those in his inner circle.
"Please stop thinking about your friends and family. Think of the people's interests," Ongart said. "Make this cabinet reshuffle about solutions to the country's problems. If you still consider only your friends and family, things won't change."
Chulalongkorn professor Surachart also cited another reason for a potential reshuffle: The junta needs a success story in case its members decide to run in the next election, slated for November 2018.
"If the NCPO wants to have a role in setting up a political party, and they haven't yet succeeded in anything, they wouldn't have accomplishments to sell to the people," he said. "They need some successes first."
Correction: An earlier version of this article quoted Ongart as saying the price of potatoes was falling. In fact, he was referring to cassava.