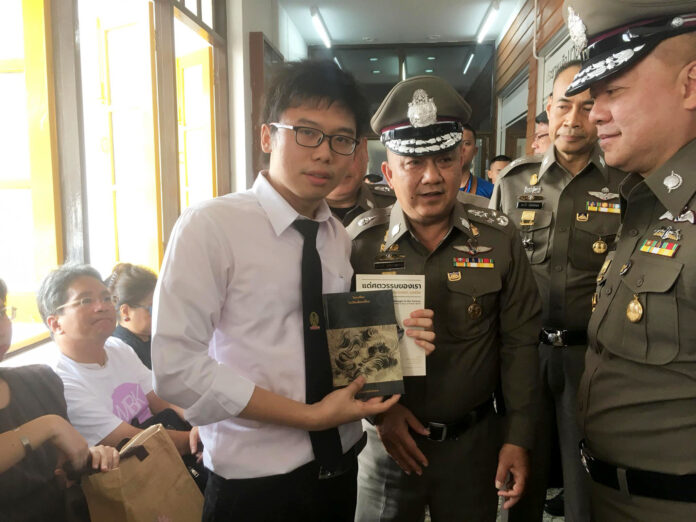 BANGKOK — A police commissioner on Tuesday filed a complaint against a famous student activist for allegedly using a false anecdote about him to promote the sale of a book he translated.
The Royal Thai Police on Wednesday said deputy police commissioner Srivara Ransibrahmanakul had filed a complaint against Netiwit Chotiphatphaisal for allegedly using a false anecdote about him to promote his translation of works by late philosopher Isaiah Berlin.
"I didn't think it would be damaging. It even makes him look good, like an intelligent police officer," Netiwit said by phone Wednesday. "Usually he gets berated by society all the time. I was surprised he would do this after I made him look good."
Netiwit said one of the policemen told him Srivara had read the book, "Messages to Our Century: Three Essays of Isaiah Berlin" – which contains three works the student and his classmates translated – and had told his officers to read it. He said he was surprised to be accused of defamation and breaching the Computer Crime Act.
Netiwit's post on Monday said multiple police officers had called him to order the book on Srivara's recommendation that "this is a good book, guys. Do you have it yet?"
Police said that Srivara had not read the book and would not tolerate his name being used on grounds that he was unaware of the content.
"[Srivara] didn't say any of that. He just kept the book and didn't read it. He never talked about it in the meeting," Col. Olan Sukkasem of the Technology Crime Police said by phone Wednesday. "It's wrong because it defames him. We don't know if what's in that book is good or bad so he can't just be used to promote the book," he said, adding that people could be driven to purchase the book because Srivara is a figure of authority.
Olan said Srivara met Netiwit on Feb. 8 when student activists and other demonstrators heard charges against them at Pathum Wan Police Station. Netiwit later posted a photo of himself handing Srivara the book.
"He even asked me to sign the book for him. Then I joked that he was funding me, and he said that selling books was an honest way to do so. I thought that he would actually read it," Netiwit said.
Isaiah Berlin was a 20th century philosopher and political theorist.
Related stories:
Chula Professors Tackle Student Trying to Leave Initiation (Video)
Thorn in the Pillar: Freshman Makes Enemies Upsetting Tradition. Allies Too.