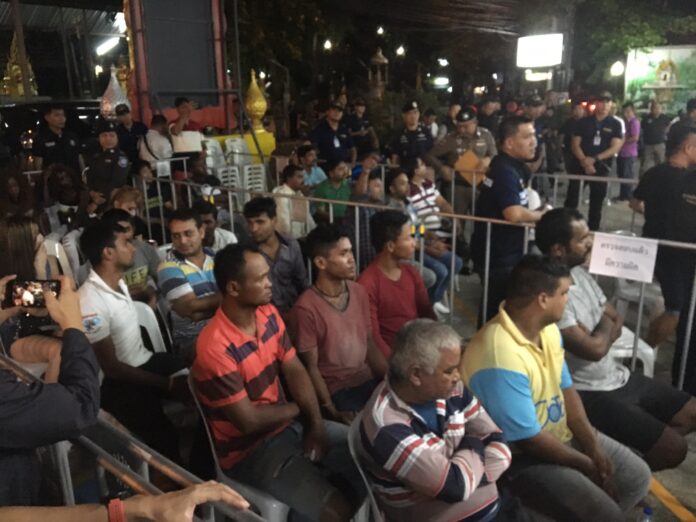 BANGKOK — More than 60 foreigners were arrested Thursday in another round of raids that took place in the capital and targeted dozens of schools nationwide.
In what has become a weekly ritual, police announced the arrests of 67 foreign nationals from a series of raids on more than 70 schools as well as parts of Bangkok. The 129 locales hit by the latest operation included the Nana area of Sukhumvit Road and several educational institutions outside the capital.
Fifty-one foreigners were arrested for entering the country illegally and five others for overstaying their visas. The rest were charged with petty crimes and related offenses. Those arrested were mostly Burmese, Laotian and Cambodian, along with four African nationals, according to tourist police chief Maj. Gen. Surachet Hakpan.
"The police force will continue to investigate foreign nationals entering Thailand illegally and committing crimes such as phone scams and romance scams," Surachet said. "These criminal gangs damage the country's reputation. When we catch them, they'll be blacklisted, barred from entering the country and deported to their homelands as soon as possible."
The arrests are part of an ongoing campaign the police say is meant to weed out transnational crime and prostitution. Surachet added that police raided 49 public schools, 15 language institutions and seven international schools. None was in Bangkok, police said.
Police Col. Pananchai Chuenchaitham said they're considering whether to press charges against the schools.
"It depends. Some schools conspired with them, but some didn't know anything about it," he said, declining to name the schools where arrests were made because he does not want to harm their reputations
Surachet said some schools might be charged for being complicit.
"These foreigners came here with a tourist visa," he said. "Then, they applied for a language course, changed their visa status in order to stay longer, but they didn't actually attend classes and they overstayed. This is the pattern."
He also refused to name the schools because "the investigation is ongoing," but added that none is in Bangkok.
The raids come just weeks after two similar raids saw tourist police take more than 100 foreigners in similar raids targeting international schools.
Related stories: