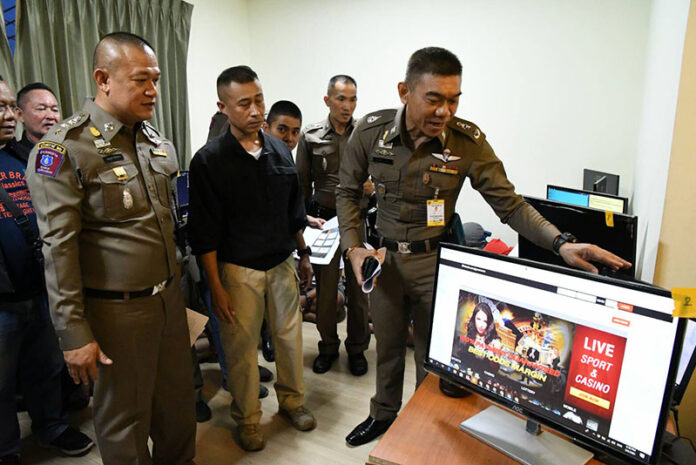 BANGKOK — Police arrested eight men suspected of running football betting websites Sunday night in eastern Bangkok and were looking to summon almost 1,000 of their subscribers.
A group of men who allegedly ran popular football gambling websites Fifa55, Fifath, Fifaplays and Fifagoal were arrested when police stormed a three-story house in Gusto Grand Townhome Ramkhamhaeng gated community. On Monday, they said they would summon the sites' 914 users in for questioning.
"We will call them in for questioning. Nowadays people gamble online rather than using bookies, so finding them will need careful searching," Col. Adisak Chuphan of Bangchan police said by phone Monday.
Adisak said he was not sure whether the suspected gamblers were Thais or foreigners, or if they resided in Thailand.
"These websites have about 914 monthly subscribers and more than 50 new users a day, set to increase during the World Cup 2018 season," Police Maj. Gen. Phanurat Lungboon said. "These are also international football betting networks that opened servers in Thailand for eight months now and made them about 120 million baht in profit."
Phanurat said the websites circulated about 500,000 baht in daily bets, amounting to about 15 million baht monthly. The eight men have been charged with organizing, promoting or coercing people into gambling whether directly or indirectly. Their accounts have been frozen and will be inspected for money laundering. If found guilty, they face up to two years in jail or a fine of 2,000 baht.
Police seized three desktop computers, three laptops, 10 monitors and 16 mobile phones. The suspects were renting the house where they were arrested for 18,000 baht a month. The house owner – along with the 914 people involved in the betting ring – will be summoned for questioning, Phanurat said.
Though illegal, betting on football is one of the most popular and lucrative forms of gambling in Thailand. All forms of gambling other than through the Government Lottery and horse racing forbidden.
Crackdowns increase toward the football World Cup season. During the 2014 tournament, police arrested more than 5,000 people in connection with football gambling rings.