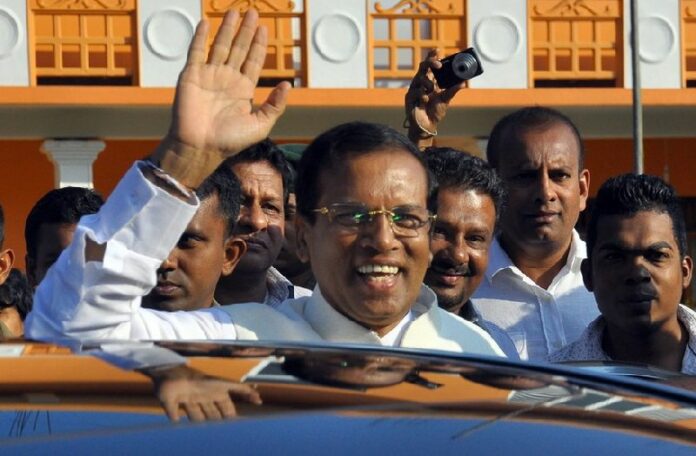 By Anthony David
COLOMBO (DPA) — Sri Lanka's President Mahinda Rajapaksa conceded defeat Friday and invited his opponent to take over, a spokesman for his office said.
"The president thanked the people who supported him and said he was accepting the people's verdict," said spokesman Wijeayananda Herath.
The move came as Maithripala Sirisena, the New Democratic Front candidate, was leading with 53.48 per cent of the vote followed by Rajapaksa with 45.20 per cent in the mid-stages of the declaring of results.
Sirisena was leading with a majority of more than 400,000 votes after 70 of some 160 electoral districts announced the results in the elections.
About 75 per cent of the 15 million registered voters turned out.
A candidate needs to secure 50 per cent plus one vote of the total valid votes to be declared the winner.
The contest between Rajapaksa and Sirisena was thought likely to be close immediately before the polls, but the results so far have surprised many.
Sirisena was backed by a combination of opposition parties including a minority Tamil party formerly allied with the rebels of the Liberation Tigers of Tamil Eelam, who were defeated by the military in 2009, and a Muslim party.
He was leading in 40 of the polling district results announced, mainly with large majorities from areas dominated by minority Tamil and Muslim voters in the northern and eastern provinces.
Sirisena was defeated in some of the areas in the southern part of the country where the majority Sinhalese community lives, but the margins were small, officials said.
Rajapaksa called early presidential elections with two more years to be completed in his six-year term, but the defection of Sirisena from the government to contest the poll turned out to be a disadvantage to the incumbent.
The final results are expected later Friday with the counting in progress in rest of the electoral districts.
The military was deployed to strategic positions in the capital and main towns, but no incidents of violence have been reported.
The Inspector General of Police NK Illangakoon has urged people to stay calm.
Supporters of Sirisena were seen lighting fire crackers to celebrate the early results.
President Rajapaksa's ruling United People's Freedom Alliance has held the presidency for the last two decades.