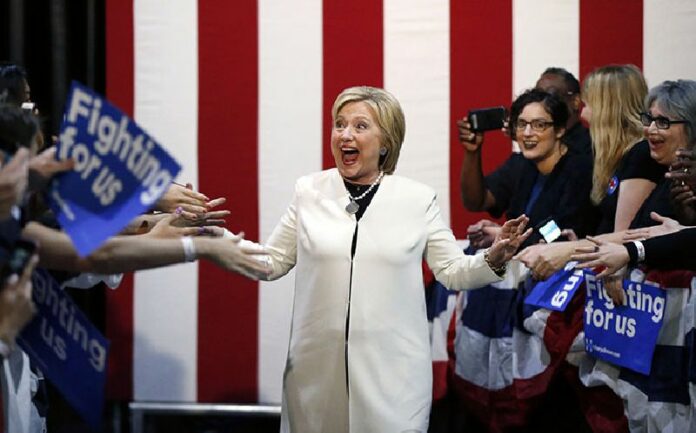 WASHINGTON — Democrat Hillary Clinton won at least six states and Donald Trump at least five in Super Tuesday elections, the biggest day of the primary campaign. But Ted Cruz ended Trump's winning streak with victories in his home state of Texas and neighboring Oklahoma.
Democrat Bernie Sanders also won his home state of Vermont and Oklahoma.
Clinton and Trump were pressing for sweeping victories that could distance them from their party rivals and move them closer to a November presidential election showdown. Nominating contests were being held Tuesday in 12 of the 50 U.S. states.
Trump won in Virginia, Alabama, Massachusetts, Tennessee and Georgia. Cruz is the only candidate to have beaten Trump, in the leadoff Iowa caucuses, as well as the two wins on Tuesday.
Cruz, a firebrand conservative senator, has been vying with Marco Rubio to emerge as the main alternative to Trump. Cruz saw the Southern states that voted Tuesday as his opportunity to stake his claim to the nomination, given their large evangelical Christian populations. Trump has won over many evangelicals, but Cruz's campaign may be boosted by his victory in Texas, the biggest prize up for grabs on Super Tuesday.
Rubio, a Florida senator who has become the favorite of much of the Republican establishment, has yet to win a primary, despite competing hard in Virginia. He is putting hopes on his home state primary on March 15.
Clinton, the former secretary of state and senator, won in Texas, Arkansas, Alabama, Tennessee, Georgia and Virginia. The wins reflected her strength in the South, where black voters are an important part of the Democratic base and overwhelmingly supporter her.
Voting was still ongoing in other contests or the races were too close to call.
Trump, the brash billionaire and reality TV star, has stunned the Republican political establishment by winning three of the first four contests, seizing on the anxieties of voters angry at Washington and worried about terrorism, immigration and an uncertain economy. Using simple terms, and often coarse language, he has soared to the top of polls with his pledge to "make America great again."
Republican officials, fearing a Trump sweep, have been lashing out at his temperament and command of the issues in the hours before voting began.
"You've got a con man and a bully who is moving forward with great speed to grab the party's mantle to be its standard bearer," Norm Coleman, a former senator who backs Marco Rubio, said in an interview with The Associated Press. "That's almost incomprehensible."
Clinton, once seen as the all-but-inevitable Democratic nominee, has contended with an unexpectedly strong challenge from Sanders, a senator and self-described democratic socialist. But Clinton, like Trump, had also won three of the first four races, including a landslide victory in South Carolina on Saturday.
Candidates are trying to win delegates who will vote for them at the parties' conventions in July. For Republicans, 595 delegates were at stake, nearly half of the 1,237 needed for the nomination. Democrats were allocating 865 delegates, more than one-third of the 2,383 needed to become the nominee.
Both Cruz and Rubio have launched furious verbal attacks on Trump in recent days, but some in the party establishment fear the anti-Trump campaign has come too late.
Ohio Gov. John Kasich and retired neurosurgeon Ben Carson remain in the race, but neither is expected to be a major factor on Tuesday.
Republicans spent months largely letting Trump go unchallenged, wrongly assuming that his populist appeal with voters would fizzle. Instead, he's appeared to only grow stronger, winning states and drawing support for some of his most controversial proposals.
In six of the states voting Tuesday, large majorities of Republican voters said they supported a proposal to temporarily ban all non-citizen Muslims from entering the United States, an idea championed by Trump. The exit polls were conducted by Edison Research for The Associated Press and television networks.
Republicans fear Trump will damage their prospects of recapturing the White House after Barack Obama's two terms. The worries appeared to grow after Trump briefly refused to disavow the apparent support of a former Ku Klux Klan leader, David Duke, during a television interview. Trump later said he had not understood the TV interviewer and he did repudiate Duke.
The disarray among Republicans comes as Clinton, seeking to become America's first female president, has tightened her grip on the Democratic race. She has increasingly turned her attention away from Sanders and on to Trump, casting herself as a civil alternative to the insults and bullying that have consumed the Republican race.
"What we can't let happen is the scapegoating, the flaming, the finger pointing that is going on the Republican side," she told voters in Massachusetts. "It really undermines our fabric as a nation."
Sanders, who has energized young voters with his call for a political revolution, was seeking to stay close to Clinton in the South and pick up victories in several other states in addition to Vermont. But he faces tough questions about whether he can rally minorities who are core Democratic voters.
Democrats were voting in 11 states and American Samoa, where Clinton won; Republicans were voting in 11 states.