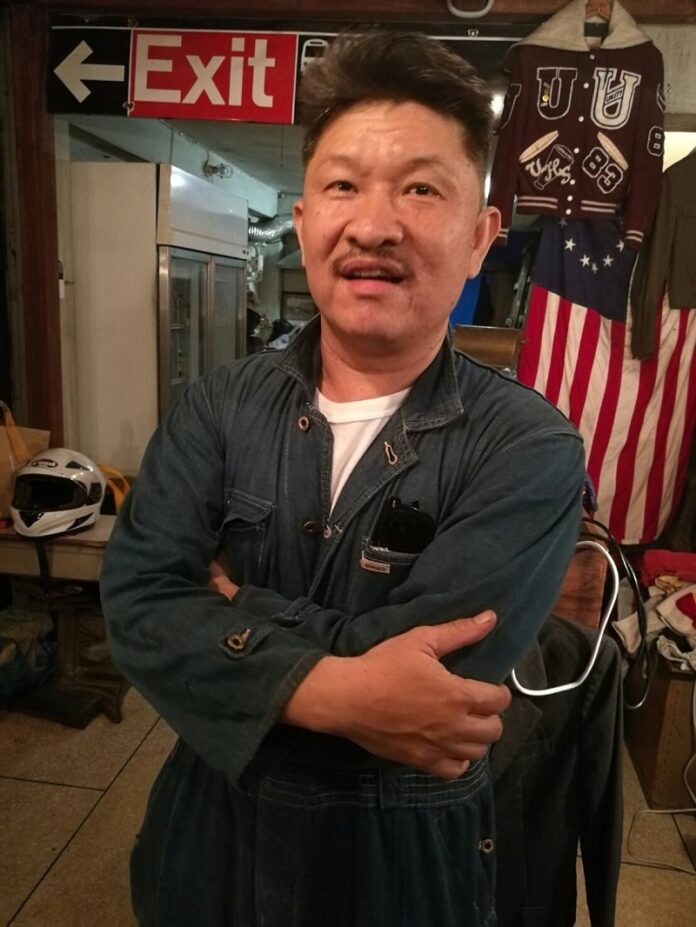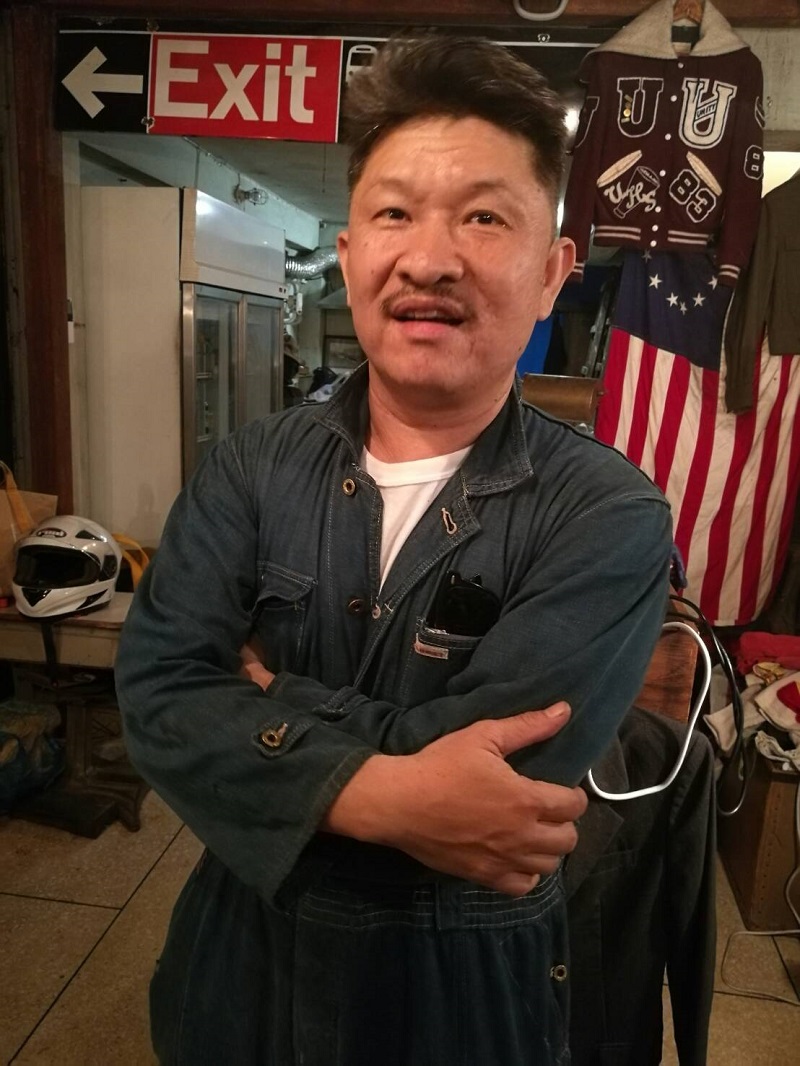 Prasong Kanhasura may not be a household name in the fashion industry, but when it comes to vintage male clothing, the 44-year-old known as Pat Bangklyn is a towering figure. The man played an instrumental role in giving birth to Bangkok's best-known annual vintage flea market, Made By Legacy, before becoming alienated by its overt commercialization.
He runs a small vintage clothes near the Hua Chang Bridge in the Ratchathewi district where his goods and style are sought by Western buyers, some of whom work closely with well-known designers in the West. He also makes his own very limited line of male clothing inspired by vintage Western clothes from the 1930s onward.
In his shop one can find things like an old Ralph Lauren tote, a few vintage items from Prince Charles' preferred brand Turnbull & Asser, and some of Prasong's own reproduction vintage trousers.
But it's soon the end of the road for his shop, Bangklyn (yes, a portmanteau of Bangkok and Brooklyn) which will close down in April after 10 years. Prasong has decided to move to New York to open a Thai restaurant. Leaving a few sartorial observations about male fashion and vintage clothing would only be apt, as Prasong has yet to pen a style guide – yet.
Asked if high-waist trousers should be preferred to low-waist ones, Prasong ended up giving a brief lecture on the history of Western trousers.
"No matter what, low waist can't be as comfortable," said Prasong, stressing that high-waist trousers evolved from military uniforms, which were designed for utility, functionality and comfort. "The matter has been well thought out."
Prasong is into vintage clothing not just because it's less common but because he believes the quality and styles of decades past are better and more enduring. He is passionate about this. He said fabrics and workmanship used to be better, and labor less expensive.
Today's expensive new selvage jeans, for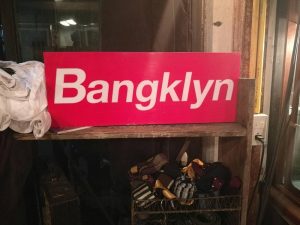 example, can't compete with old pairs from the 1970s or earlier, when less pesticides soaked the cotton fields and denim affectionados could tell the difference in the feel and look of the fabric. The same can be said of the quality of workmanship of the past, which often trumps the present. Prasong's fascination with vintage clothing also includes old metal button flies, blazer buttons and the lived-in look of old clothes.
Prasong searched for new old stock fabrics and old tailors to make some of his vintage-inspired clothes on top of the real vintage clothes that he sourced from flea markets and rural areas in the United States and Japan.
Prasong, who confessed that vintage clothing is in his blood, pointed out that today's cost-cutting and profit maximization means even expensive brand-name clothes are of moderate quality compared to those of decades past. On a personal note, Prasong said that back in 2011 he turned down an offer to open a shop in a posh new shopping mall in Bangkok not far from his humble rented shophouse, because he felt big malls extinguish charm and uniqueness. While selling American and Japanese vintage clothes at Bangklyn, the Northeastern country sounds of morlam and Cambodian songs are standard background music.
"What I sell has a sentimental value. You can buy stuff, but if buyers don't get it then there's no point. I opened [a stand-alone] shop because I think my customers are like-minded. I forage for goods, and I like to think my customers enjoy searching out my shop too. Anyone can buy, but to be able to use your goods properly requires cultivation."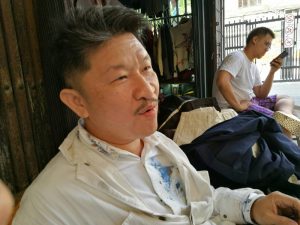 Quality clothing is just half of the equation, however. The other half is how one wears one's clothes and whether they suit one's character.
"The difference between looking cheap despite wearing expensive clothes and looking expensive while wearing cheap clothes is taste," Prasong said.
While not a Sapeur of Brazzaville, Prasong nevertheless is never seen in public dressed without attitude or panache. His cultivated character always exudes something unmistakable through his clothes.
"You simply can't put on an Ivy League look with a K-pop hairdo," Prasong said.
It's also imperative, said Prasong, that the clothes you wear reflect your character and who you are.
Fashion for Prasong however, isn't an end in itself.
"With passion for fashion comes an understanding about life. The principle of fashion is like life, it's about balance," he said. "If you wear a 10-million baht watch or put on a 30,000 baht pair of trousers but wear a shirt with plastic buttons, then something is amiss."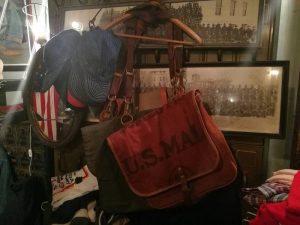 As Prasong prepares to embark on a new chapter in life in the Big Apple, where he lived earlier from 2000 to 2006 as a cook in a Thai restaurant, he offers a caveat that not all vintage clothes are desirable.
"Vintage clothing is like vintage wine. On some years it doesn't turn into a good vintage. I have faith and appreciate people who value qualities, however," he said.
The interview was interrupted by a Western client who had been browsing around for a while. He finally requested a bespoke pair of trousers in vintage style and fabric from Prasong while he sought some sartorial advice.
"You have to wear a character," Prasong instructed, in English. "It's more than clothing."
Wearing a classic white American jumpsuit, he continued:
"We must understand that lifestyle, culture and fashion are one and the same thing."
Bangklyn is open 1pm to 8pm on most days, depending on Prasong's mood and commitments to his wife and two children. It's located at 121/118 Phayathai Road, a short walk from BTS Ratchathewi.