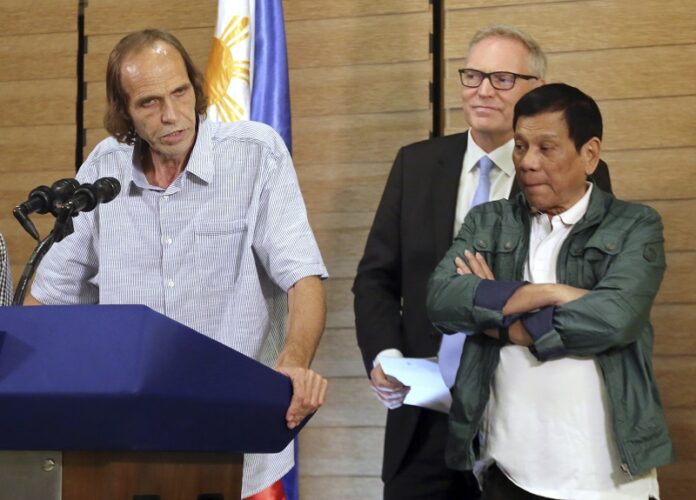 MANILA — Gunmen attacked a Vietnamese cargo ship off the Philippines' southern tip, killing a Vietnamese crewman and abducting six others including the vessel's captain, the Philippine coast guard and the ship's owner said Monday.
Coast guard spokesman Armand Balilo said the Vietnamese coast guard reported that the MV Giang Hai, with 17 crewmen on board, was attacked by pirates Sunday night about 20 miles (31 kilometers) north of Pearl Bank in Tawi-Tawi, the Philippines' southernmost province.
Personnel of the Philippine coast guard, police and marines found the ship had drifted near the province's Baguan Island. Upon boarding the vessel, they found 10 Vietnamese sailors alive and one dead.
Pham Van Hien, head of the safety department of Pham Hai shipping company, the owner of the cargo ship based in Vietnam's northern port city of Hai Phong, said the captain was among those abducted. The attack occurred while the vessel was transporting 4,500 tons of cement from Indonesia to the Philippines, he said.
The gunmen destroyed some of the ship's equipment, but the 10 remaining crew members managed to sail the ship, Hien said.
Hien said the company had informed the IMB Piracy Reporting Center in Malaysia seeking its help in securing the return of the kidnapped crew members.
Balilo said pursuit operations are underway, but the location of the abducted crewmen and the identity of the attackers remain unknown.
Abu Sayyaf militants and allied gunmen are suspected of being behind previous sea assaults in the area, including an attack last November on another Vietnamese cargo ship whose captain and five crewmen were also kidnapped. They are still being held.
Ransom kidnappings of Malaysian, Indonesian and Vietnamese crewmen have continued despite heightened coastal and border security.