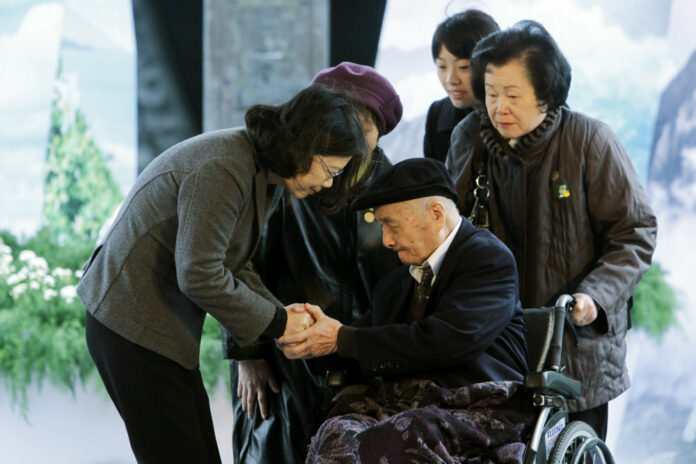 TAIPEI, Taiwan — Taiwanese President Tsai Ing-wen said Tuesday the island's democracy is mature enough to handle a thorough investigation into a bloody crackdown on anti-government protesters 70 years ago, an event seen as a rallying point by those who reject China's claim to the self-governing island.
Tsai, speaking at a gathering in Taipei, pledged to take a "rigorous and precise attitude" in the assigning of responsibility for the violent suppression of the protests that began on Feb. 28, 1947. The largely peaceful opposition movement was directed at the corrupt rule of Chiang Kai-shek's Chinese Nationalist Party that had taken control of the former Japanese colony less than two years earlier.
Tsai had said during her inauguration last May that she expected within three years to see a full report on the suppression of the protests.
China considers the uprising a part of the overall struggle that led to the Communist victory in 1949, while many Taiwanese see it as a backlash against attempts to govern the island from China without the consent of the island's native population.
"After 70 years, I believe that Taiwanese society now has the mature democratic mechanisms to discuss this matter," Tsai told a gathering of victims, families and supporters in 228 Peace Memorial Park in central Taipei, named after the date of the uprising.
As many as 28,000 people were believed killed after Chiang dispatched troops to massacre participants in the largely peaceful protests, many of whom came from the Japanese-educated elite. Many more were imprisoned and killed in the decades of political persecution that followed, in what was widely known as the "White Terror."
Suppressed under Nationalist rule, the uprising has become a rallying point for Taiwanese who say the island and China are separate nations. Opponents, including those in China, say the anniversary is being used for political purposes to further an anti-Beijing, pro-Taiwan independence agenda.
Even after seven decades, the events remain contentious. While hundreds of Tsai's supporters rallied in the park, police kept out a separate group calling on the government to drop the issue.
This year's commemorations are especially significant because the government is drafting a law that could rename a central Taipei tourist landmark dedicated to Chiang and remove his statue from the premises. Seeking to avoid confrontations, authorities on Tuesday closed the landmark Chiang Kai-shek Memorial Hall that is popular with tourists from China, where the one-reviled Chiang is now seen as a patriot who battled Japanese invaders.
Tsai's independence-leaning administration is also releasing all previously secret government documents about the events that broke out when Nationalist policemen attacked a widow selling contraband cigarettes, sparking an outpouring of pent-up frustration with Chiang's government.
Then based in the Chinese city of Nanjing, Chiang was driven from mainland China by Mao Zedong's Communists in 1949 and ruled Taiwan under martial law until his death in 1975.
The then-Nationalist government offered an apology to victims in 1995, but moves to excise Chiang's memory stalled under former Nationalist President Ma Ying-jeou, who left office last year.
"We are pretty dissatisfied and feeling impatient," said Yang Chen-long, 65, chief executive officer of a foundation for victims of the 1947 crackdown. Although Yang's family received 6 million Taiwan dollars ($195,000) for the persecution of his father and two other relatives at the hands of authorities, he said ascribing blame and educating the public are of primary concern.
"The compensation for me isn't that important," he said. "Chiang Kai-shek should take responsibility."
This year's commemorations were seen as especially significant given a sharp downturn in relations between Taiwan and China. Following a period of relative calm under Ma's China-friendly government, Beijing has stepped up its pressure on Taiwan over Tsai's refusal to endorse its principle that the island and the mainland are part of a single Chinese nation to be unified eventually.
China's Taiwan Affairs Office last week accused Taiwanese independence supporters of manipulating the anniversary to "to stoke conflict and split public opinion," while official Chinese newspapers on Tuesday carried editorials accusing Tsai's backers of sowing discord.
Also this week, marches have been held from the site where the initial protests broke out to Memorial Park, with participants calling for swifter action on the government's drive for justice for victims and their families.
"The biggest thing this year is that most people related to Feb. 28 or who understand it will want a speeding up of transitional justice, and the second thing is to let people know the real truth," said Cheng Tsing-hua, who marched with hundreds of others in a memorial event Monday.
The current chairwoman of the Nationalist Party, which was soundly defeated in elections for both the presidency and parliament last year, has been less than supportive of the commemorations.
"Taiwan's society still has political parties that want to keep using this incident and keep stoking past wounds," Hung Hsiu-chu said in a statement Monday. "Their mouths say they want the truth, but what they want is just the reality that serves their needs."
Story: Ralph Jennings