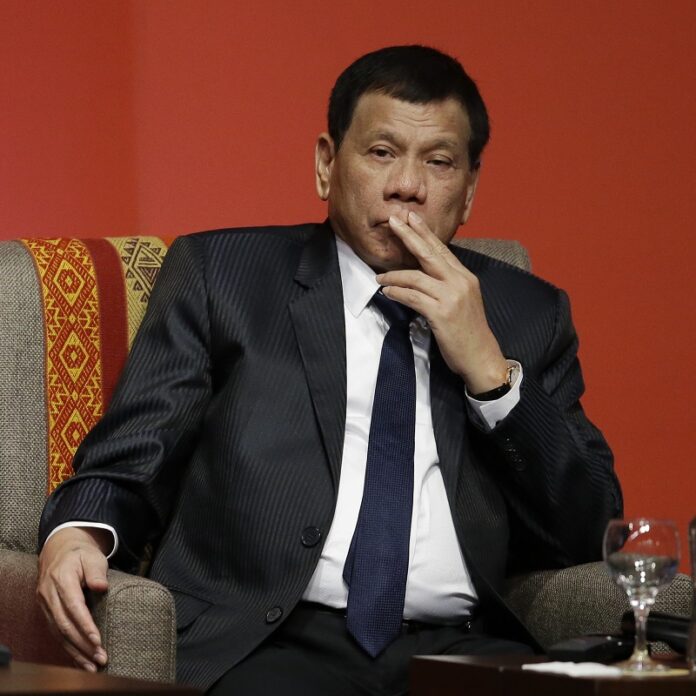 MANILA, Philippines — Philippine President Rodrigo Duterte said Sunday that he would not be intimidated by an impeachment complaint and threats of an international lawsuit for his anti-drug crackdown and added that he'd rather have criminals dead even in the "thousands or billions" if they threaten law enforcers than see his men killed.
Duterte said he would only stop his crackdown, which has left thousands of mostly poor drug suspects dead, if drug traffickers halt their trade. He warned anew that he has ordered policemen to shoot criminals who would threaten the lives of law enforcers.
"Follow the law and we're all right. Drop the shabu (methamphetamine) and nobody will die tomorrow but I will not be intimidated and I shall not be stopped by just … what? International Criminal Court? Impeachment?" he said at a news conference in southern Davao city before flying to Myanmar.
"If you are a criminal and you are caught in the act, do not fight because if you place the guy's life, place it in jeopardy of losing it, my order is to shoot you," the tough-talking president warned. "I do not want to see military men and dead men on my side killed. I'd rather that the criminals, however (in the) thousands or billions they are, they should be the first to go."
A Philippine lawmaker filed an impeachment complaint against Duterte on Thursday because of the thousands of deaths in his crackdown and alleged corruption, although the bid faces an uphill battle, with the president's allies holding an overwhelming majority in the House of Representatives.
Rep. Gary Alejano's complaint alleged that Duterte violated the constitution, committed bribery and corruption and betrayed the public trust with his actions, including the crackdown, which has sparked extrajudicial killings, and his failure to declare huge bank deposits as required by law.
A lawyer has also threatened to file a lawsuit against Duterte before the International Criminal Court for the alleged extrajudicial killings.
Duterte has said he does not condone unlawful killings, although he has threatened criminals with death in several speeches. He welcomed the impeachment complaint as a democratic option in his country, but said it would not derail his crackdown.
"The drive against corruption, the drive against criminality and drugs will resume and it will continue, and it will be brutal if they do not understand the role of government," he said. "I will not be, for a moment, be out of focus on that. I rose on what I promised and I will fall on that."