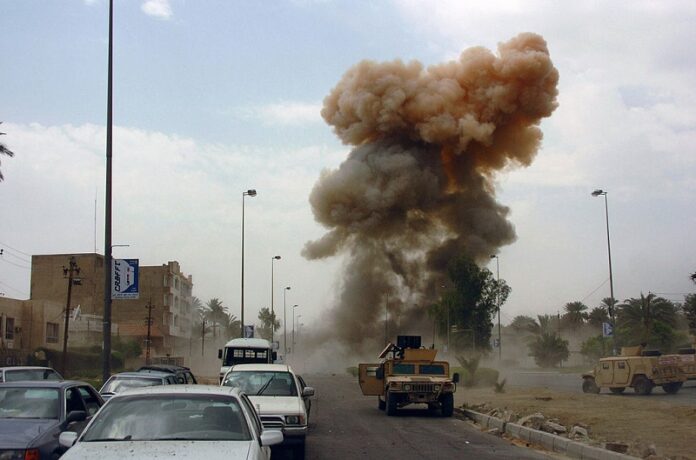 CANBERRA, Australia — The death of an Australian girl in a Baghdad bombing underscored why Australia was fighting Islamic State militants in the Middle East, the Australian foreign minister said on Wednesday.
Zynab Al-Harbiya, 12, from Melbourne, went with her family to Baghdad to visit her sick grandfather but was among the 17 people killed Monday when a car bomb exploded outside a popular ice cream shop, Foreign Minister Julie Bishop said.
The Islamic State militant group claimed responsibility for the attack, which Iraqi officials said involved apparently remotely detonated explosives inside a parked car.
"This tragedy underscores the brutality of this terrorist organization. It shows no respect for religion, nationality, sovereignty, borders, no respect for humanity," Bishop told reporters.
"This is why the Australian government has continued to commit our defense personnel to support the Iraqi security forces, so that they can fight to defeat this terrorist organization within Iraq and to prevent its spread to other parts of the world including in our region," she added.
The girl's cousin, Layla Al-Saabary, told Australian Broadcasting Corp. that Zynab's mother and uncles were among the dozens injured. Al-Saabary did not say how many uncles.
"She wanted to go and buy ice cream, so she insisted. Her mother gave permission and so they went to the main square and she was going to go buy ice cream and she went and she never came back," Al-Saabary said.
The family had only been in Baghdad for a few days when the tragedy occurred and Zynab had been "scared of the bombs," her cousin said.
Australia is one of the biggest contributors to the U.S.-led military campaign against Islamic State militants in Iraq and Syria, with 780 Australian military personnel in the Middle East and aircraft including six jet fighters striking Islamic State targets.
Ramadan is often marked by an increase in violence in Iraq.
Last year, a huge truck bombing claimed by IS killed hundreds in a retail district in central Baghdad where people were shopping for clothes ahead of the holiday that marks the end of Ramadan. It was the single deadliest event in Baghdad since Iraqi leader Saddam Hussein was toppled in 2003.
Story: Rod McGuirk