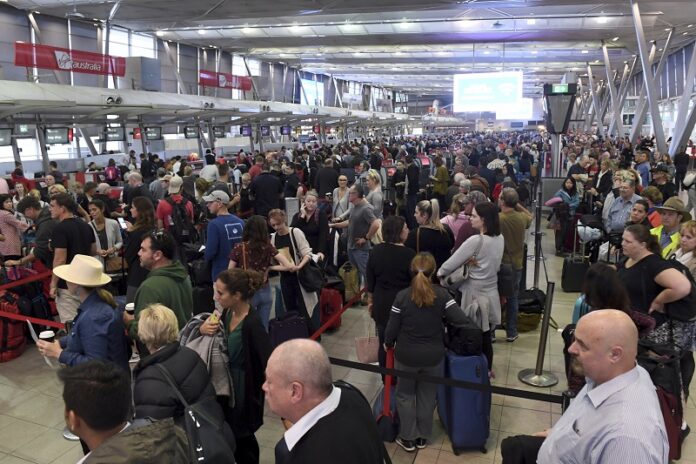 CANBERRA, Australia — Security remained heightened in airports around Australia with more intense screening of luggage after law enforcement officials thwarted what a police chief described on Monday as a "credible attempt to attack an aircraft."
Prime Minister Malcolm Turnbull and Border Protection Minister Peter Dutton declined to comment on newspaper reports that Islamist extremists planned to kill the occupants of a plane with poison gas and that a homemade bomb was to be disguised as a kitchen mincer.
"Police will allege they had the intent and were developing the capability," Turnbull told Australian Broadcasting Corp.
Turnbull announced on Sunday that "a terrorist plot to bring down an airplane" had been disrupted, but revealed few details.
Four men arrested in raids in Sydney late Saturday – two Lebanese-Australian fathers and their sons – had yet to be charged.
Australian Federal Police Commissioner Andrew Colvin said a court ruled Monday that the four could be detained without charge for seven days from their arrest under counterterrorism laws.
"We believe we have disrupted a legitimate and credible attempt to attack an aircraft," Colvin told reporters without elaborating.
Colvin and the government will not comment on media reports that the suspects were not previously known to Australian security officials and that their arrests followed a tip from a foreign intelligence agency.
"Australians can be assured that we have very fine intelligence services and we moved extremely quickly on this one and, as you can see, with the right outcomes," Turnbull said.
The Australian newspaper cited multiple anonymous sources saying that the plotters were constructing a "non-traditional" explosive device that could have emitted a toxic, sulfur-based gas to kill or immobilize everyone on the aircraft.
Sydney's The Daily Telegraph newspaper reported that the plotters planned to make a bomb from wood shavings and explosive material inside a piece of kitchen equipment such as a mincing machine.
Police raided five homes Saturday and removed a domestic grinder and a mincer used to make sausage, the newspaper said.
The plot involved smuggling the device on a flight from Sydney to the Middle East, possibly Dubai, as carry-on luggage, the newspaper said.
Fairfax Media reported the bomb was found in a home in inner-city suburb of Surry Hills, a few doors from the local mosque.
Turnbull declined to say whether the group was guided by someone overseas.
"It'll be alleged that that this was an Islamist extremist, terrorist motivation," Turnbull said.
Dutton urged travelers to arrive at Australian airports two hours before domestic flights and three hours before international flights to allow time for more screening. Luggage should be kept to a minimum and those accompanying travelers should not enter secured parts of terminals.
He declined to detail the threat that the security staff were searching for.
"There'll be lots of speculation around what the intent was … but I don't want to add to that," Dutton told Nine Network television.
"Our focus now really is making sure that people who are planning a terrorist attack are thwarted," he added.
Security has been increased at Sydney Airport since Thursday because of the plot and has since been increased in all major Australian international and domestic terminals.
Turnbull would not speculate on how long airport security would remain elevated.
"They will be required for as long as the threat is assessed as requiring them," Turnbull said.
Australia's terrorist threat level remained unchanged at "probable."
Australia is a staunch ally of the United States and partner in military campaigns in the Middle East. The Islamic State group has highlighted Australia as a western target.
The plot was the 13th disrupted by police since Australia's terrorist threat level was elevated in 2014. Five plots have been executed.
Story: Rod McGuirk