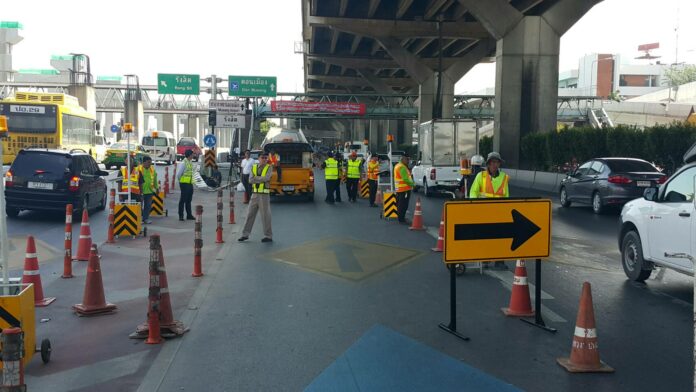 BANGKOK — Access to Don Mueang Airport will be impacted this week as a U-turn bridge leading into the airport is closed to determine whether it's really necessary.
The Department of Highway on Monday closed the U-turn bridge connecting the northbound side of Vibhavadi Rangsit Road in front of Wat Don Mueang to the airport to assess whether its closure would significantly impact traffic.
"The bridge to the airport uses up an extra lane, so cars going toward Rangsit from Din Daeng get stuck here," Um Sutharat, deputy director of the Bangkok Highway Department said. "If we demolish this bridge, then there would be an extra lane. So for a trial period of three days, we will close the bridge to see if traffic is really badly impacted by it, in case we demolish it, which would take about a year."
The trial closure will occur Monday from 8:30am to noon and 2pm to 6pm, Tuesday from 4am to 9am and 5pm to 9pm and all of Wednesday.

"We will then collect the traffic information and see if the bridge is suitable for demolition. If so, then demolition will begin Sept. 1 and take about a year. We want to rush it to be eight months though, but if we run into a gas pipe it could take another couple of months," Um said without further explanation.
Um said an extra lane would improve traffic for those commuting from the Lat Phrao district, Ratchayothin and Lak Si areas as well.
He said the impact this morning was not too bad.
"Cars were moving, and there were no big problems for commuters and airport users. No one missed their flight yet!" he said.
Instead of using the closed U-turn bridge, those driving into the airport can use the bridge in front of the airport's cargo department, the bridge in front of Don Mueang Air Force Base or use the Don Mueang Tollway.