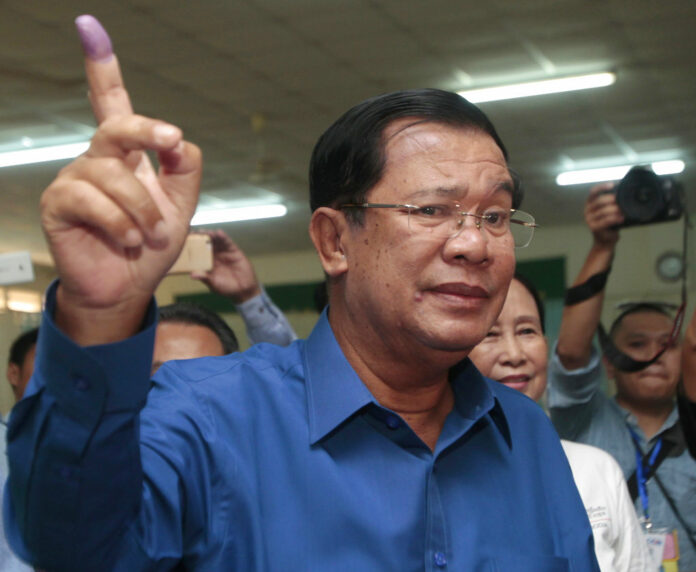 PHNOM PENH — Cambodian Prime Minister Hun Sen vowed to continue leading his impoverished Southeast Asian nation for another 10 years on Wednesday, days after the arrest of his leading opponent.
Speaking to some 10,000 garment factory workers in the outskirts of Phnom Penh, the capital, Hun Sen said he has decided to run for another two terms. After that, he said, and would think about leaving office.
"Before I was very hesitant of when I shall leaving office, but after witnessing the treasonous acts of some Cambodians in recent days, I have decided to continue my job for another 10 years," the 65-year-old said.
In power for 32 years, Hun Sen is already the world's longest-serving prime minister and among its longest-serving leaders. In 2007, he said he wanted to retire at age 90, but backtracked on the claim in 2015.
"May I ask all the foreigners, please don't be jealous of me that I've become the world longest-serving prime minister," he said.
After the opposition Cambodia National Rescue Party mounted a strong challenge in 2013, Hun Sen and his Cambodian People's Party have sought to stifle dissent and weaken challengers ahead of elections in July 2018.
His party has often been accused in the past of using violence or threats against opponents, but in recent years has stalked its foes mostly in the courts.
Legal threats forced opposition leader Sam Rainsy to resign this year; he now lives in exile.
Cambodian authorities on Sunday arrested his successor, Kem Sokha. On Tuesday, he was formally charged Tuesday with treason for allegedly conspiring with the United States to topple the government, and could face up to 30 years in prison if convicted.
The move sharply escalates political tensions and raises questions over whether upcoming elections can be free or fair. The opposition party says treason allegation is false and politically motivated.
Hun Sen urged the factory workers he spoke to Wednesday to vote for him next year, promising that he would give them better jobs and health care.
Story: Sopheng Cheang