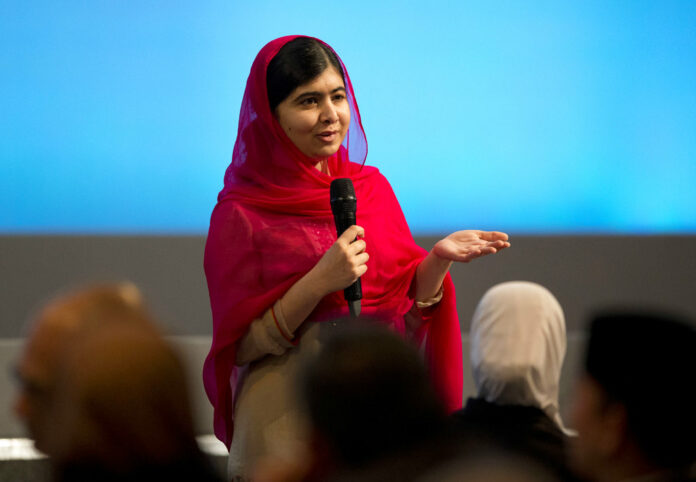 ISLAMABAD — Nobel Peace Prize winner Malala Yousafzai returned to Pakistan early Thursday for the first time since she was shot in 2012 by Taliban militants angered at her championing of education for girls.
Tight security greeted the now-20-year-old university student upon her arrival at Pakistan's Benazir Bhutto International Airport. Local television showed her with her parents in the lounge at the airport before leaving in a convoy of nearly 15 vehicles, many of them occupied by heavily armed police.
She is to meet with Pakistan's prime minister later in the day. Her return to Pakistan has been shrouded in secrecy and it wasn't immediately clear how long she would be in Islamabad or whether she planned to travel to her hometown of Swat where the shooting occurred.
Yousafzai was just 14 but already known for her activism when Taliban gunman boarded the school van in which she was sitting and demanded to know "who is Malala?" before shooting her in the head. Two of her classmates were also injured. In critical condition, Yousafzai was flown to the garrison city of Rawalpindi before being airlifted to Birmingham in Britain.
She has spoken at the United Nations, mesmerizing the world with her eloquence and her unrelenting commitment to the promotion of girl's education through the Malala Fund, meetings with refugees, and other activism. But at home in Pakistan, she has been condemned as a Western mouthpiece with some even suggesting on social media that the shooting was staged. Yousafzai has repeatedly responded to the criticism with a grace far outstripping her years, often saying education is neither Western, nor Eastern.
Often when she has spoken in public she has championed her home country and spoken in her native Pashto language, always promising to return to her home.
On March 23 when Pakistan celebrated Pakistan Day, Yousafzai tweeted, "I cherish fond memories of home, of playing cricket on rooftops and singing the national anthem in school. Happy Pakistan Day!"
Local television channels have been showing her return to Pakistan with some replaying the horror of her shooting and the rush to get her treatment.