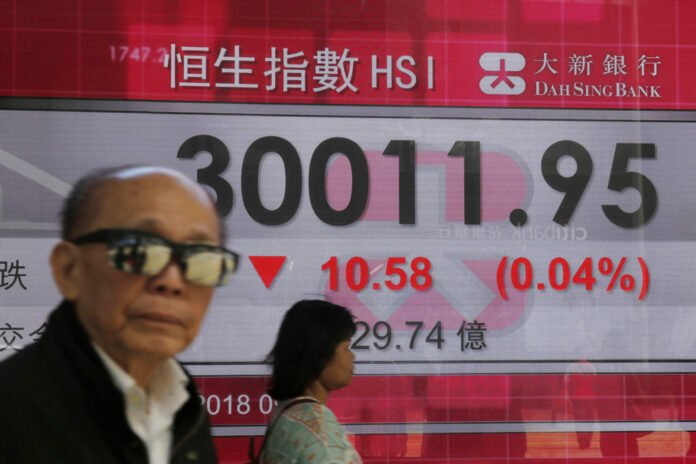 HONG KONG — Asian stock markets were mixed on Thursday as tech-sector losses on Wall Street weighed on sentiment. Trading in some markets was muted ahead of the Easter long weekend.
KEEPING SCORE: Shares rose then fell in Thailand. Japan's Nikkei 225 rose 0.4 percent to 21,121.17 after a sharp drop in the yen made shares cheaper for foreign buyers. South Korea's Kospi added 0.2 percent to 2,424.49. Hong Kong's Hang Seng index slipped 0.3 percent to 29,939.72 while the Shanghai Composite in mainland China gained 0.1 percent to 3,123.67. Australia's S&P/ASX 200 lost 0.3 percent to 5,770.70.
TECH PRESSURE: Amazon, Netflix and other consumer-focused tech companies suffered losses that outweighed gains in other sectors. Investors continue to wrestle with the possible implications of negative headlines swirling around tech sector names. Amazon slid on a report that President Donald Trump was musing about going after the e-tailer with antitrust or competition law while Tesla tumbled after Moody's downgraded the electric car maker's credit rating.
MARKET TAKE: "U.S. tech stocks remained a drag amid the scrutiny over a multitude of issues and it should be of little surprise to see the decline's extent with a lack of positive news to boost sentiment," said Jingyi Pan of IG Markets in Singapore. "For Asian markets, however, this gloom may have worn out a little as we anticipate a potentially lackluster session today."
KOREAS SUMMIT: Tensions over the Korean peninsula eased on signs of progress in the standoff over the North's nuclear program. The two Koreas began high-level talks Thursday to prepare for a summit between North Korean leader Kim Jong Un and South Korean President Moon Jae-in. That follows a meeting earlier this week between Kim and Chinese President Xi Jinping in Beijing. A summit between Kim and President Donald Trump is also anticipated by the end of May though nothing has been confirmed.
WALL STREET: The benchmark S&P 500 index dipped 0.3 percent to close at 2,605. The Dow Jones industrial average fell less than 0.1 percent to 23,848.42. The Nasdaq composite slid 0.8 percent to 6,949.23.
ENERGY: Benchmark U.S. crude rose 19 cents to $64.57 a barrel in electronic trading on the New York Mercantile Exchange. The contract lost 87 cents, or 1.3 percent, to settle at $64.38 per barrel on Wednesday. Brent crude, used to price international oils, rose 14 cents to $68.90 per barrel in London.
CURRENCIES: The dollar eased after making a big jump against the yen to its highest level in three weeks. It was trading at JPY106.58 from JPY106.84 late Wednesday. The euro rose to $1.2328 from $1.2308.