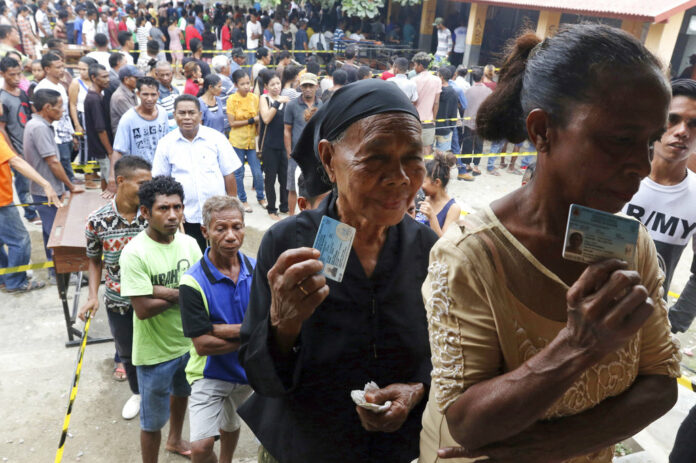 DILI, East Timor — East Timorese voted Saturday in their second election for parliament in less than a year after the collapse of a minority government.
A three-party alliance led by independence hero Xanana Gusmao's National Congress for Timorese Reconstruction party is vying against Fretilin, which headed the short-lived government formed following July's election.
Polls closed at 3 p.m. and preliminary results may not be known until Sunday.
Both sides in the election are promising economic development to reduce widespread poverty in East Timor.
"I wish the winning party may look after the clean water, the roads to villages, education system and health sector," said farmer Sergio Soares Ximenes.
The former Portuguese colony was annexed by Indonesia in 1975 and gained independence after a U.N.-supervised referendum in 1999.
The final days of campaigning were marred by violence when activists from the Revolutionary Front of Independent East Timor, or Fretilin, attacked supporters of Gusmao's party.
Gusmao also accused Fretilin of buying votes by distributing rice, noodles and money, an allegation angrily denied by its secretary-general Mari Alkatiri.
Fretilin was narrowly the biggest party in parliament following the July election but the coalition it cobbled together was vulnerable, holding just 30 out of a total of 65 seats.
For the past decade, East Timor governments have focused on infrastructure projects and a dwindling oil fund to boost their economy but made little progress in addressing poverty in rural areas where 70 percent of East Timorese live.
The U.N. estimates nearly half the population lives below the extreme poverty line of USD$1.90 a day and half of children under 5 suffer moderate to severe physical and mental stunting as a result of malnutrition.
"I want a change. I really want someone to change the status quo," said Dili resident Profirio Fernandes Xavier.
Neither Fretilin nor Gusmao's party, known as CNRT, can by themselves win an outright majority of votes, but Gusmao appears to have gained an advantage by forming the alliance with smaller parties.
After 2012 elections in which CNRT was the biggest party but short of an absolute majority, it eventually settled into a national unity coalition with Fretilin.
Story: Oki Raimundos