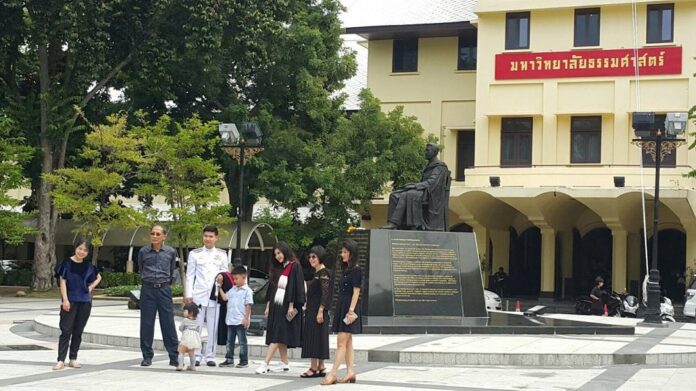 BANGKOK — Traffic around the the Grand Palace was expected to be worse this weekend as Thammasat University would hold its graduation practice ceremonies as mourners continue to stream in.
Those who come to express their condolences over His Majesty the Late King or congratulations to Thammasat's graduates were advised to use public transportation, traffic police said Friday.
Just as the weekend prior, a total of 27 roads leading to the palace will be closed from 8:30am to 8pm. A free shuttle service will run during those hours.
Read: Thammasat Graduation Bans 'Congratulations' in Favor of Condolences
Cars coming to drop off graduates can only enter the university from Phra Athit Road and cannot park inside the university, according to Maj. Gen Jiraphat Poomjitraksa.
In practice, it may prove difficult to reach Phra Athit Road as many surrounding roads will be closed, including the Phra Pinklao Bridge and Ratchadamnoen Avenue.
Traffic police recommended graduates and guests park at nine shuttle stops far from the area, such as at Impact Muang Thong Thani and Future Park Rangsit. From there they can take the free shuttles, originally intended for mourners, to the university.
Out of sensitivity to those paying their respects to the Late King, Thammasat University this week announced it would ban flowers and overt expression of joy including "Congratulations" signs.
The same plan will be in effect Nov.12-13 when the official graduation ceremony of more than 8,000 students takes place.
Mourners at the Grand Palace are expected to increase 30 percent to 50 percent this weekend.