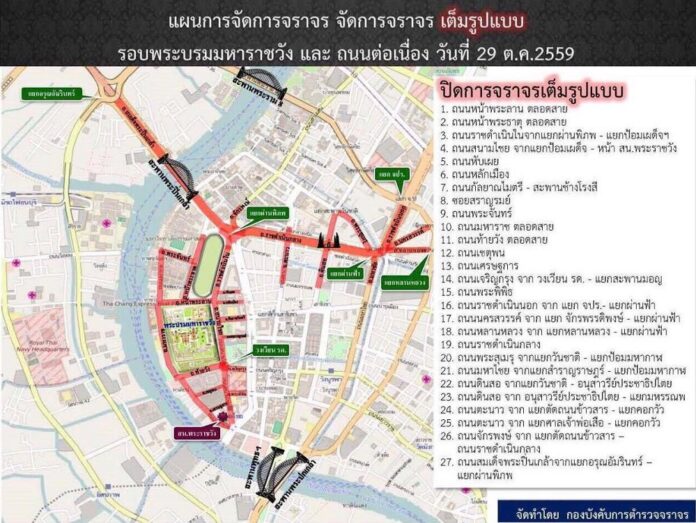 BANGKOK — Roads throughout much of Bangkok's old quarter will be closed Saturday for the first day of public access to the palace hall where His Majesty the Late King lies in state.
A total of 27 Roads around and leading to the Grand Palace will close at 7am until late at night as mourners arrive, many traveling from across the country. Some free shuttle services will continue.
From the northwest side of the river, the closures start from the Arun Amarin junction and across the Phra Pinklao Bridge and Ratchadamnoen Avenue to the Lan Luang junction. The shutdown also covers roads around the Sanam Luang and the Grand Palace between the river and Rop Krung canal Maha Rat Road.
Read: What We Can Expect For King Bhumibol's Funeral Rites
Closures are expected to continue Sunday, with the possibility some smaller roads around the palace remaining closed Monday.
Two weeks after the royal funeral began, Saturday will be the first day the public is inside the Dusit Maha Prasat, where the body of King Bhumibol is kept, to pay respects in front of the symbolic royal urn. Crowds will be allowed inside between 8am and 9pm.
The palace has been accommodating crowds up to 40,000 people per day, about 30,000 of which have entered to sign their condolences in a book there.
Starting Saturday, no more than 10,000 people will be allowed to enter the hall.
The Grand Palace and Wat Phra Kaew will reopen for tourists again Tuesday.
Related stories:
The Resting Place of Flowers for King Bhumibol (Photos)
Free Food Curfew as Trash Floods Sanam Luang
Sea of Voices Rise in Tribute for Late King
Huge Turnout for Mass Singing Tribute to King Bhumibol
Altruism, Youth Dominate at Grand Palace as Nation Mourns
For Nation in Mourning, All Roads Lead to Sanam Luang

What We Can Expect For King Bhumibol's Funeral Rites (Updated)