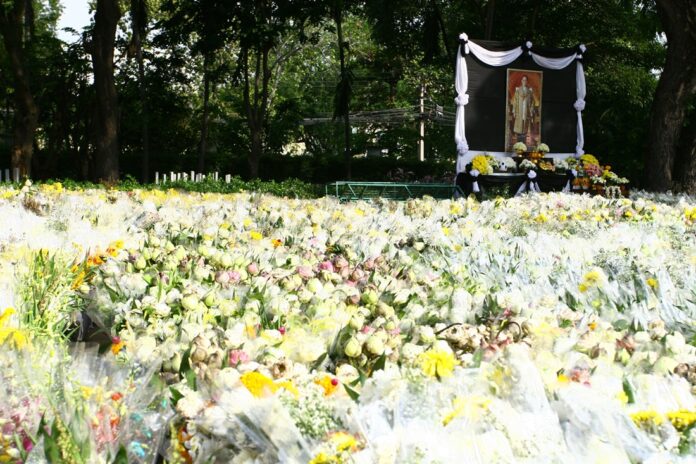 BANGKOK — Tens of thousands of mourners have left flowers around the Grand Palace in memory of His Majesty the Late King Bhumibol, who died on Oct. 13 at 88.
Nearly as fast as they can leave them in great heaps, city employees working in three shifts have been removing them – but to where?
On Wednesday, the director of a Western-style public garden close to the Grand Palace gave a tour to show how they have been put to further use in honor of the king and those mourning him.
Watch Khaosod's live video from Saranrom Park 
Passakorn Pojjiraporn, director of Saranrom Park, said that the flowers are brought by the workers to the park and sorted into two groups. The fresh ones are displayed in honor of the late monarch at four locations: one in the park, one at the southern end of the Sanam Luang, and two on Maharat Road. Flowers that are too damaged for display are sent for composting at the Rama IX Park in eastern Bangkok, said
Passakorn estimated each day the park receives 200 to 250 large bags of dao rueng, the yellow flowers associated with religious rites, collected from around the Grand Palace. It also receives about 400 large bags of other types of flowers daily, he said.
Members of the public are welcome to visit and see for themselves at the park, a historic garden dating back to 1860s.