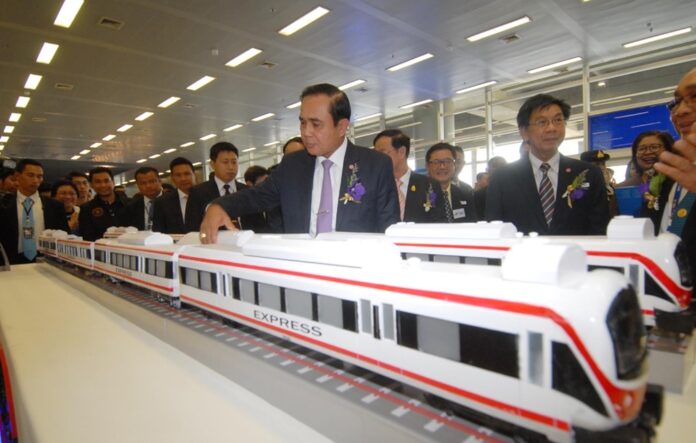 BANGKOK — The elevated trains that connect Bangkok's downtown with its international airport are not at risk of derailing contrary to a rail expert's warnings, an executive with the state railway said Tuesday.
Former deputy Bangkok governor Samart Ratchapolsitte, who worked on the city's mass transit projects during his tenure, prompted concerns when he said the Airport Rail Link recently discovered some of its track equipment was in critical condition.
However, a board member of the Airport Rail Link said Samart exaggerated the issue. Suthep Panpeng said the defects found in some of the track hardware were routine, and they were promptly replaced after being discovered in weekly inspections.
"Regulations require us to inspect the rail every four months," Suthep said. "But in reality, engineering teams inspect the route every week."
The hardware in question are so-called fish plates which join segments of rail. In an online post written Monday, Samart said 59 fish plates were in "critical" condition while 100 others needed urgent replacement. Failure to do so would put trains at risk of derailment, he wrote.
Samart, who serves as adviser to a number of engineering councils, also criticized the State Railway of Thailand, which operates the airport service, for maintaining letting the equipment wear down and put the public at risk. His post has been reprinted by several media agencies since then.
But Suthep said he misrepresented the issue. According to Suthep, the damaged plates could function for at least for one more month, but the staff replaced them early out of caution. The 100 other plates mentioned by Samart can operate for at least another year, he added.
He also insisted it's normal for such plates to wear out, especially in places where the tracks curve.
"This happens in any other place. If you asked the BTS, they would tell you same thing too," Suthep said, referring to the capital city's skytrain service.
The Airport Rail Link has experienced service issues and breakdowns, including an electrical failure in March that trapped passengers aboard trains during the hottest time of the year. The ruling junta is planning to extend the service to cover Don Mueang Airport.