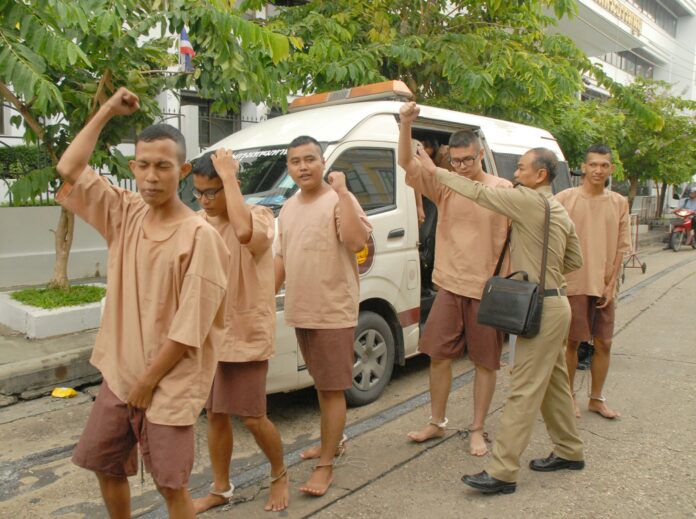 How much meat must a sausage contain in order for it to be labelled as a genuine meat sausage? How absurd can a referendum process get before it can no longer be called a genuine referendum?
In the case of sausages, according to an article on the BBC, a pork sausage in Britain must contain a minimum of 42 percent pork, however if it is labelled merely as a 'meat' sausage 32 percent meat content will suffice.
It's much trickier when it comes to the upcoming junta-sponsored referendum on the charter draft in amazing Juntaland.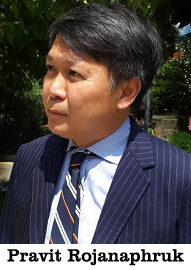 After all you cannot determine if a referendum is real or not by reducing various criteria into percentile stats like a sausage.
Developments over the past few months and weeks lead to a stronger case for labeling the referendum as 'fake' or a 'sham.'
Consider the following:
Referendum Prisoners
What kind of referendum criminalizes, shackles and imprisons citizens for campaigning against the content of the charter draft?
The seven 'referendum prisoners' (plus 6 who got bailed earlier) detained for 12 days, experienced this firsthand recently.
The criminalization of any campaigning for or against the junta-sponsored charter draft makes no sense for a referendum that should be a process where people can deliberate and campaign freely about the content.  
The public should be able to get as many opposing views and as much information as possible before making a decision in a plebiscite.
And this is taking place while the military regime exploits its dictatorial power to ensure that only positive information about the referendum airs on all TV and radio stations in the lead up to the referendum.
A Referendum without Observers
The second bizarre, if not outlandish aspect of the August 7 referendum is that Thais are  unable to acquire accreditation to become election observers.
Groups like We Watch, a volunteer group with experience in observing past elections have been denied accreditation by the Election Commission because the referendum law, passed by the junta-appointed National Legislative Assembly, does not contain any mention of election observers.
If the law doesn't say it is illegal, then it should be legal, right?
The final hope lies with the Asian Network for Free Elections (ANFREL) which earlier announced plans to send in some twenty short-term observers. Election Commissioner Somchai Srisuthiyakorn confirmed that they're welcome because they're not Thai observers!
On Tuesday, with just a month left before the promised August 7 referendum, ANFREL executive director Ichal Supriadi, replied to my query about whether they have received a letter of accreditation from the Thai Election Commission already or not.
The veteran Indonesian election observer sent the following reply:
"Not yet, we will likely abort the international mission due to inadequate time to prepare."
Instead, the junta who appointed all the charter drafters and all members of the rubber stamp parliament who approved the bizarre referendum law which criminalizes public campaigning on the charter draft gave us 'peace centers' in every province and district to ensure that their referendum law is strictly enforced.
Catch 22 Juntaland Style
After months of dodging questions from reporters on the same topic, Junta leader Prayuth Chan-ocha recently committed himself to launching Round 3 of the junta-sponsored charter draft should the current second draft be rejected on August 7.
The first junta-sponsored draft was rejected by the National Reform Council late last year.
The public of course doesn't know whether or not the third draft will potentially become even more anti-democratic. The risk and uncertainty is there. Also, tens of millions of Thais do not know how many draft charters would be rejected before Prayuth and his men call it quits.
Prayuth made clear that he won't resign if the current draft is rejected on Aug. 7. Will he be saying the same thing, say 10 years from now when the 22nd or 23rd draft gets rejected in another 'referendum'?
His deputy, Gen. Prawit Wongsuwan has said the draft charter, if rejected, has nothing to do with the regime.
Perhaps Prawit forgot who handpicked the charter drafters, who approved the referendum law and who, two years ago, wrote a song asking for "just a little more time" after they staged the coup in May 2014.
Don't ask for accountability from dictators. Dictators dictate. Dictators don't resign. They just eventually get overthrown.