Walking through Thonglor in the heat of the day is a dreary experience, one few people have to endure as they drive by in cars, taxis or on motorcycle taxis.
The rooftop bars are closed, their owners and clients recovering from the previous night. Inexplicably large restaurants with rows of BMWs parked in the back and bland food that adds up to a bill worthy of London or New York dump questionable music onto deserted outdoor patios, not loud enough to cover the noise of traffic but still plenty to grate on nerves. The new hipster hangouts, jewelry studios, tattoo parlors and hair dressers that double as expensive whisky bars are desolate, revealing their nature as pastimes for spoiled kids more than profit-making businesses. Motorcycle taxi drivers sit at the beginning of the road, leaving you to hang dry – or more likely soaking in sweat – if you make the mistake of passing them without jumping on. Sidewalks are completely clear, leaving plenty of space for you to regret the decision to take a stroll.
Yet, as the city slides into its stunning smog-infused, red and purple dusk, an electric energy possesses the road. Street vendors take over the sidewalks, drawing famished residents onto the streets, out of their air-conditioned offices, shops and houses like vampires ready for their nocturnal feast of sustenance and entertainment. Like school intermission bells, the sound of crackling charcoal, sizzling woks and pounding pestles summon the city to assemble. Wobbly folding tables and plastic stools appear under make-shift nylon that cover the sidewalks, now overflowing with people slurping noodles, forking marinated pork necks or spooning freshly cut papaya salads.
As the evening progresses and the traffic ebbs and flows, those people move from one vendor to the next, crowd into nearby convenience stores and prepare for their nights in the neighborhood's popular bars. Sure, walking on the sidewalks is more challenging than before, but the vacant nightmare of daytime Thonglor gives way to the Bangkok we all love, a city of boundless creativity, shifting moods and mouth-watering food affordable to everyone.
On Monday, all this is supposed to come to an end.
April 17 is the date Bangkok Gov. Aswin Kwanmuang and the man who put him there, Prayuth Chan-ocha, marked to roll in a ban on street vending along some of the most famous food destinations in the city. Last month, police officers handed out final notices to vacate the sidewalks on main streets through the Thonglor, Ekkamai and Phra Khanong areas. The timing is paradoxical. It comes exactly one month after CNN named the Thai metropolis one of the world capitals of street food, for the second year in a row.
"The Prime Minister is happy with the ranking which confirms the identity of Thailand as a destination where delicious foods is served at all times," a government spokesman said, hailing the recognition. His actions, however, tell otherwise.
Bids to impose order over Bangkok's street vendors, decrepit neighborhoods, riverfront markets and enervating traffic are part of a tired script, one the city's residents and politicians alike have learned to pay lip service to – then quickly forget. They are almost ritual components of enthroning new city governors and appeasing the urban middle classes but are invariably set aside once citizens, interest groups and local residents come knocking.
Yet Aswin, a junta appointee to the elected position and therefore unencumbered by the need to win popular support, has shown little concern with auditing practices, attempts to negotiate or the effects of his policies on the lives of Bangkok's residents. In October of last year, a few days after his appointment, he declared:
"In police and military systems, they don't usually give you a reason. An order is an order. Our duty is to say 'yes sir.'"
Driven by his authoritarian tendencies, the governor – whose name means "knight" – has waged an all-out war on anything the military government deems unruly and disorderly in Bangkok: Everything that allows the urban poor to survive in an increasingly expensive city; everything that attracts travelers. Historic markets have been shut down, sleepy walled communities torn to pieces and by some estimates nearly 20,000 vendors evicted from public areas. In all of these cases, the approach has been the one declared by Aswin upon his appointment: dictate order and expect silent compliance. This modus operandi has characterized state administration in Thailand since the 2014 coup and proved difficult to oppose. Under military rule, avenues of negotiation or resistance are almost nonexistent, and any attempt to organize against the junta's orders can be met with charges of sedition, detention or suspicious roadside extrajudicial killings.
"The present military-dominated government, which has assumed extraordinary powers that it can use at will, can move more quickly and more ruthlessly than elected governments can," says Michael Herzfeld, a Harvard University anthropologist and long-term observer of what he calls "spatial cleansing" in Bangkok. "History will judge its actions, but this will be too late for the people whose lives have been destroyed by socially irresponsible policies."
The effects of these policies will be disastrous not just for the evicted dwellers and vendors, but also the economic survival of service workers who live and work in the affected areas. A local motorcycle taxi driver with whom I spend the last decade doing research, lamented in a recent alcohol-fueled conversation.
"I don't make enough money to go eat in restaurants, without street vendors where are normal people supposed to eat?," he said.
While the government's actions raise alarms for the fate of Bangkok and its people, it is not yet time to despair. Aswin and Prayuth are not the first authoritarian leaders to try to impose order over the unruly capital. King Chulalongkorn tried in the late 19th century to transform Bangkok into a city of boulevards and trams, rather than narrow canals and boats. The city largely stopped moving on water, yet its sois preserved the contours of the waterways, with slender dead-end branches rather than intersecting avenues and roundabouts. In the 1960s, the dictator Sarit Thanarat attempted make the capital into an car-based utopia of highways and zoning practices with the support of American planners and funds rushed to the country to insure its support for American imperialism and its strategy to "contain" Communism.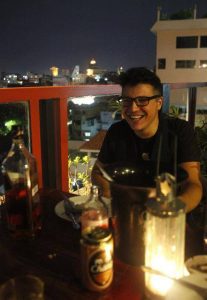 Once again, as anyone driving in a car in Bangkok knows, the project failed, ridiculed by the resilience of sois, local transportation and roadside life. There is no indication that machinations of Prayuth and Aswin will end any differently. Their predictable negative effects on tourism, the only industry keeping the economy afloat, will further erode the ground beneath their feet, already chipped away by a slowing economy, collapse of treasury reserves and significant capital flight since the coup. In the long run, their resolve to sacrifice urban livelihoods to the altar of an authoritarian fetish for cleanliness and order may end up looking more like foolish self-immolation. Yet, in the process, they will hurt thousands of vendors' livelihoods and the prospects of the urban poor in an increasingly overpriced city, not to mention condemning all of us to the nightmarish world of daytime Thonglor.
Claudio Sopranzetti is a Research Fellow in Anthropology at Oxford University. His new book "Owners of the Map" is coming out in November and he is currently working on "Awakened," a graphic novel about Bangkok.