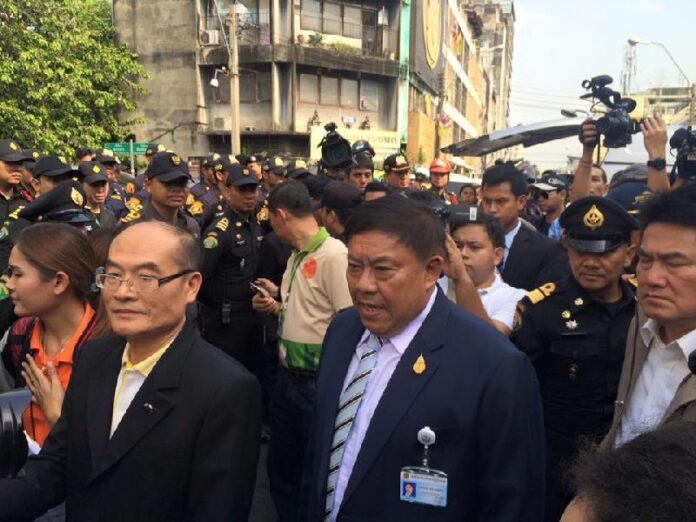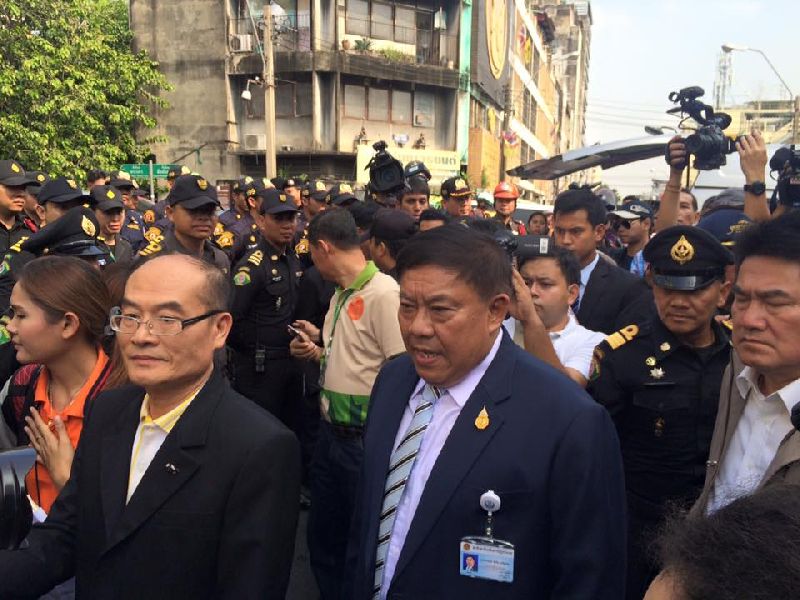 BANGKOK — It was 8am when Aswin Kwanmuang got the call telling him to go to the Government House to meet the prime minister. He repeated the words back to the person on the other end of the line, pondering what he had just heard.
So the he went. It was a Tuesday, so he had to wait around until the cabinet meeting ended at about 11am. That's when he was called into the meeting room where top government figures including junta leader Prayuth Chan-ocha, who told him he was now governor of Bangkok.
"In police and military systems, they don't usually give you a reason," Aswin, 65, said in a recent interview. "An order is an order. Our duty is to say 'yes sir.'"
It was Oct. 18 when Aswin, then deputy Bangkok governor, was summarily appointed to the top job by Prayuth's self-granted, absolute power. The order said he would be in the position until a new election is held – or the junta orders otherwise.
Aswin, a well-connected police official who's served four years in city leadership, became the first governor appointed to the position in 30 years. Bangkok and Pattaya are the only two places where provincial leaders are directly elected by popular vote. Everywhere else they are appointed by Interior Ministry.
In normal times, the next election would have been held sometime next year. That's unlikely to happen under the junta's current timetable for restoring semi-democratic rule, and Aswin might serve as long as the junta remains in power, possibly until early 2018.
He replaced Sukhumbhand Paribatra, the two-term governor from the Democrat Party suspended in August due to allegations he colluded to embezzle state funds.
Read: You Just Got 44'd: Prayuth Suspends Bangkok Governor
Aswin is now assembling his team of advisers – with some notable exceptions.
"I definitely said no to politicians," he said. "I don't want people to be associated with any political parties. I have never been a member of any party in my life."
Evictor-Crusader
The initiative most associated with Aswin's tenure as deputy governor is perhaps the city's most controversial: clearing out popular night markets and sidewalk vendors in the name of reclaiming public space. He's been the public face of the campaign the junta tasked the city with in 2014.
Aswin became known for his outspoken and uncompromising style at the negotiating table during a number of eviction battles. His successes include demolishing the toys and electronics market at Saphan Lek and the Pak Khlong Talad flower market. He also managed to make progress in a 24-year eviction battle over the Pom Mahakan fort community by getting a dozen households to move out.
Now that he's governor, Aswin said he will rely on political science more than the force of law to solve land encroachment issues. He said he's a newfound believer in the art of agreement rather than forced eviction.
"There are a lot of land encroachment issues no one has ever touched, such as hotels along the Chao Phraya riverside," he said. "To me, this problem should be looked into more."
For another issue that often has City Hall on its back foot – flooding – he chose another well-known personality: Royon Jitdorn, a government hydrologist who stopped making forecasts earlier this year after a false alarm.
"Bangkok is a lowland. There will always be floods," Aswin said of his plans for the remaining weeks of the rainy season. "But if we get the water out as quickly as possible, people will complain less."
Well-Connected
Before joining the Bangkok Metropolitan Administration after retirement from the police force, Aswin made himself known as a productive officer who had risen to the level of deputy national police chief.
In 2008, the media nicknamed him "Aswin Case Closed" due to his fast and aggressive style. He was also named by the public as the cop toughest on crime in an ABAC Poll that year.
He was also known for being snug with former protest leader Suthep Thaugsuban. When Suthep served as deputy prime minister in the administration of Abhisit Vejjajiva, Aswin was promoted to the special position of police adviser, a position made equal to deputy police chief.
Read: Suthep Denies Planning New Party with Sukhumbhand
In October 2015, Aswin was chosen by Gen. Prayuth to serve on the 200-strong advisory group which replaced the National Reform Council. Although he's been criticized for pulling double duty – and double pay – on the National Reform Steering Assembly, Aswin has refused to step down despite his new full-time obligations keeping Bangkok humming.
Aswin, whose name means "knight," takes speculation in stride that his surprise appointment came because the city needs competent leadership of the logistical challenges posed by the throngs of people arriving from throughout the nation to pay respect to King Bhumibol.
"I'm not worried. I've worked here (as deputy governor) for three years and a half already," he said. "Though I can't handle it all by myself, that's why I have to find the experts to join my team."
Related stories:
Prayuth Makes Surprise Appointment of New Bangkok Governor
You Just Got 44'd : Prayuth Suspends Bangkok Governor
Bangkok Governor Refuses to Step Down Despite Corruption Allegations
Bangkok Gov Sues Auditor for Going Public With Corruption Allegations
Junta: No Plan to Remove Embattled Bangkok Governor
Disowned by His Party, Bangkok Gov. Remains in Democrat Leadership
Suthep Denies Planning New Party with Sukhumbhand