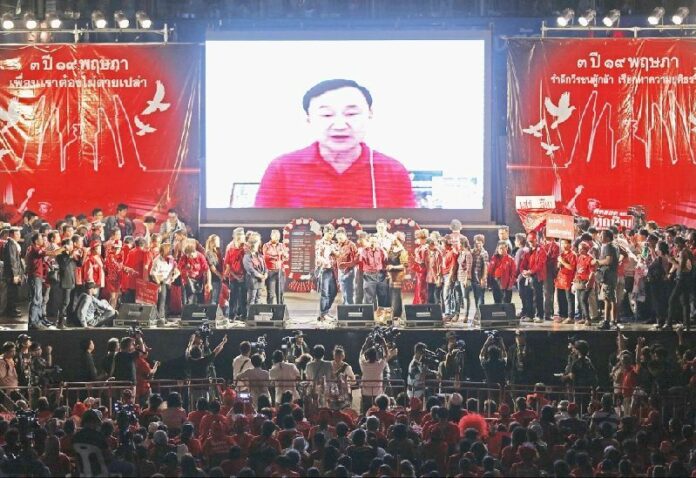 (19 May)Former PM Thaksin Shinawatra announced he would pay 10 million baht to the opposition if they ever catch the perpetrators who torched Bangkok′s famous shopping mall on the day the Redshirts protests were violently ended by the military 3 years ago.
On that day, dozens of buildings in Bangkok and some provinces were burned. The most notable incident was the arson attack on Central World shopping mall (CTW), located in Ratchaprasong intersection, which was occupied by the Redshirts during their protests in April-May 2010.
Critics of the Redshirts, including the Democrat Party, often cited the CTW arson as example of aggressive thuggery committed by the protesters.
Mr. Thaksin, dressed in red, was speaking to around 50,000 Redshirts who attended a huge rally at Ratchaprasong to mark the 3rd anniversary of the crackdown. Mr. Thaksin said he joined his supporters in remembering the 90 martyrs who lost their lives in the "unbelievable tragedy".
In a much anticipated Skype call to tens of thousands of his supporters, Mr. Thaksin said he was saddened to know that a Redshirt protester, Ms. Kaikee Wongrasri, a 68 year old resident of Sakon Nakhon province, who died from her poor health while attending the rally today.
"I salute her soul. Even though she′s 68 but she journeyed here to fight for democracy. As for other elder Redshirts at the rally today, I thank your spirit," Mr. Thaksin said.
As for himself, the ousted prime minister said his spirit remained strong for the last 7 years since the 2006 military coup, which deposed him, because of the support given to him by the Redshirts.
Later, he turned his attention to the CTW incident. Mr. Thaksin said the "pao barn pao mueang (burning down the nation) myth" that the opposition used against the Redshirts should not be continued any further, as the court had not supported that view, citing Khaosod′s reports of the court cases which ruled that there was no evidence that the Redshirts leadership organized the arson on CTW, and that it was not a political terrorism.
"The Democrat Party know Bangkokians are very jumpy. They use that myth to scare the people [for political gains]. Please wake up. Don't be fooled again," Mr. Thaksin said, adding that he was willing to pay 10 million baht to the Democrats if they can catch the culprits of the attack.
Mr. Thaksin concluded his speech by saying that he had wanted to go home in Thailand but he would refrain from doing so "for the sake of the nation".
"You ask me, do I want to go back [to Thailand]. Very much! I miss you, my brothers and sisters. But if the nation can have democracy and fairness as long as I stay away, well, I won't go back," Mr. Thaksin said to thunderous cheering from the Redshirts.
He stressed that Pheu Thai Party must maintain its "unity", and pleaded his supporters not to "abandon" him.