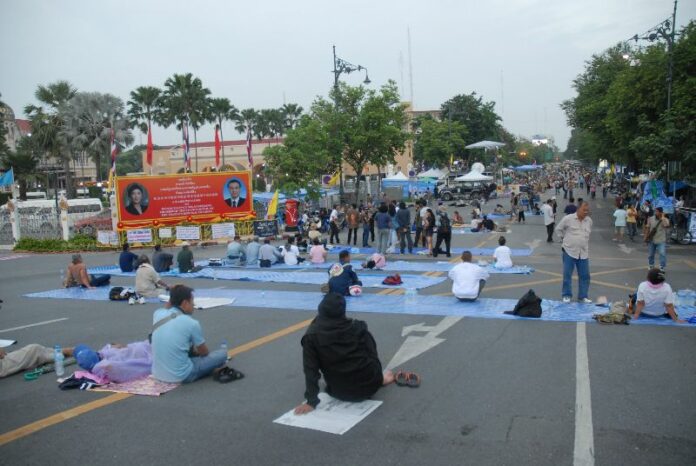 (10 October) After several negotiations, the anti-government protesters have agreed to relocate their protests back to Lumpini Park during the visit of Chinese Premier to Government House, where the protesters had been camping.
However, a small group of protesters refused to disperse and vowed their own rally in Uruphong intersection, a few blocks away from their original camp site at Government House.
The People′s Force of Democracy to Overthrow Thaksinism (PEFOT) vowed to return to resume their calls for the resignation of Prime Minister Yingluck Shinawatra after Mr. Li Keqiang had concluded his official visit to Thailand, scheduled to take place from 11-13 October.
Government officials have proposed to the PEFOT protesters that they clear the ground for the upcoming visit of Mr. Li. The protest leaders had rejected the proposals in previous negotiations, including one organised today at the protest site.
But around 14.00 today Gen. Preecha Eiamsupan, a leader of PEFOT, took to the rally stage in front of Government House and urged his fellow protesters – around 300 of them – to return to Lumpini Park, where they had been occupying for two months.
Some protesters booed and shouted their disagreement. Around 100 protesters stood their ground at the stage while others packed their tents and equipments.
The splinter group later broke off to Uruphong intersection and vowed to continue the rally on its own.
The short-lived protests at Government House, which had started as an ambitious attempt to bring about the collapse to the government of Prime Minister Yingluck Shinawatra, have been peaceful, despite several arguments between the protesters and the police officers who had sealed off the areas around the protest site.
Operating under the authority of Internal Security Act, thousands of officers have occupied governmental offices to deter the protesters from entering those buildings, and have blocked traffic in the vicinity to bar new protesters.
Upon the PEFOT′s announcement that it will withdraw to Lumpini Park, the officers lifted the barricades from the roads and allow traffic to resume. Some public buses were also provided to the protesters.
As of Thursday evening, the government has not lifted the Internal Security Act.
For comments, or corrections to this article please contact: [email protected]
You can also find Khaosod English on Twitter and Facebook
http://twitter.com/KhaosodEnglish
http://www.facebook.com/KhaosodEnglish