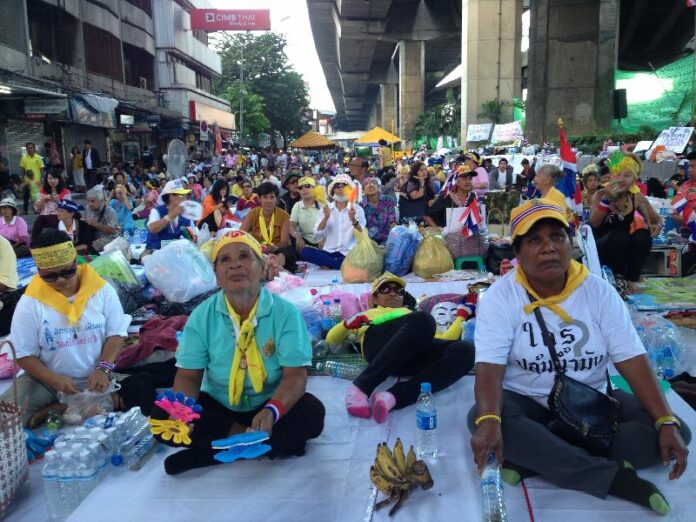 (22 October) The anti-government protesters who have been camping at Uruphong intersection have said they will enlist divine allies for their causes against the government of Prime Minister Yingluck Shinawatra.
Mr. Uthai Yordmanee, the leader of the Student and People Network For Political Reform of Thailand, told the press he will lead the protesters from their encampment in central Bangkok to the Grand Palace later this week, where the protesters would pray to the Emerald Buddha for a victory against the "corrupt" government.
The protesters will also appeal to the guardian spirit of Bangkok at the City Pillar Shrine for its blessing and protection for "the Thais who came out to defend their country … from the corrupt politicians, bureaucrats, and businessmen," said Mr. Utahi.
He added, "We want to solve the troubles of this nation, so that Thai people can be united and smiling to each other again".
He later submitted a letter to Pol.Gen. Adul Saengsingkaew, the Commissioner-General of the Royal Thai Police, informing him of the planned marches and requesting police support on the appointed dates to help facilitate the demonstrations.
Mr. Uthai also told Pol.Gen. Adul his group will march to the Royal Plaza tomorrow (23 October) to pray to the statue of King Chulalongkorn (Rama V) there on the occasion of Chulalongkorn Day. "We want to commemorate all the achievements he had done for the Thais and their country," said the protest leader.
Meanwhile, Ms. Tridao Abhaiwongse, spokeswoman of Bangkok Metropolitan Authority (BMA), said the Bangkok authority cannot force the Student and People Network to evacuate their campsite in Uruphong intersection as requested by a number of local residents.
The residents have previously complained to the police that the protesters had caused much nuisance in the vicinity, but Ms. Tridao insisted that the protesters were exercising their rights of peaceful assembly under the Constitution.
She claimed that the residents? grievance about foul smell of the protesters? toilet had been solved in a day, as the BMA promptly instructed the local officials to clean the protest site.
The spokeswoman also dismissed allegations that the BMA – headed by a senior Democrat member Sukhumbhand Paribatra – is treating the anti-government protesters with favouritism, explaining that the BMA has provided supports to the protesters as required by bureaucratic regulations.
For instance, the BMA has also previously provided around 200 mobile toilets to various Redshirts protests throughout the period of 2010-2013, Ms. Tridao said.
For comments, or corrections to this article please contact: [email protected]
You can also find Khaosod English on Twitter and Facebook
http://twitter.com/KhaosodEnglish
http://www.facebook.com/KhaosodEnglish