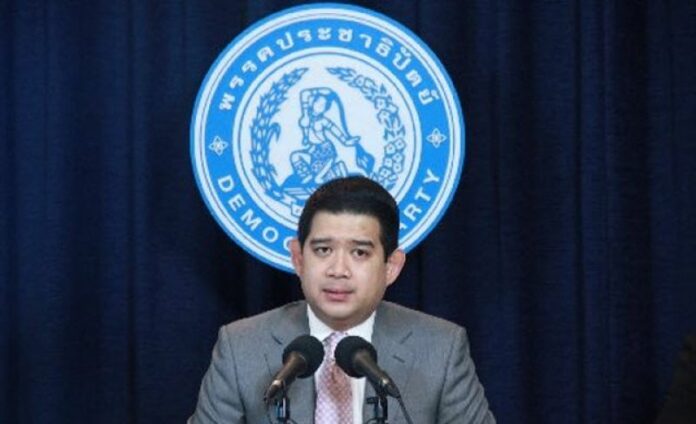 (24 October) Dissenting Pheu Thai figures who are protesting the government-sponsored ?amnesty for all? are merely acting to fool the Redshirts, said the spokesman of the Democrat Party.
His comment followed an increasingly visible rift among the ruling party between those in support of the revised amnesty bill which would grant amnesty to all sides involved in the long-running political conflict, and those who do not.
But Mr. Chavanond Intarakomalyasut, the spokesman of the Democrat Party, said the defiances are pointless, as the real power in making the calls of Pheu Thai Party rests with those who maintain close ties with former Prime Minister Thaksin Shinawatra, such as his sister Yaowapa Wongsawat, who is currently an MP of the party.
Ms. Yaowapa and her allies easily overwhelm all the dissents in the party, such as Mr. Nattawut Saikua and Mr. Weng Tojirakarn, the spokesman said.
He also accused the National United Front of Democracy Against Dictatorship (UDD) of pulling "theatrical acts" to fool the Redshirts by giving them false hope that Pheu Thai Party will change its course and withdraw the revised bill.
"The Redshirts leaders who are sitting in the Parliament should just quit their MP membership and rally against the amnesty bill outside the Parliament if they are genuinely against the bill," Mr. Chavanond said, "Otherwise, they are welcomed to continue their theatrical acts".
He added, "They are not even brave enough to raise hands and oppose the bill. Like Mr. Nattawut who refused to say whether he will vote against the bill".
Mr. Chavanond also suggested that the "play" which the Redshirts leaders are fooling their supporters should be named ?Tom Yum Redshirts?, referring to the the action film Tom Yum Goong starred by famous Thai actor, Tony Jaa.
"The difference is that in Tom Yum Goong the protagonists try to bring an elephant home, but in Tom Yum Redshirts they will try to bring Mr. Thaksin home," Mr. Chavanond said.
For comments, or corrections to this article please contact: [email protected]
You can also find Khaosod English on Twitter and Facebook
http://twitter.com/KhaosodEnglish
http://www.facebook.com/KhaosodEnglish