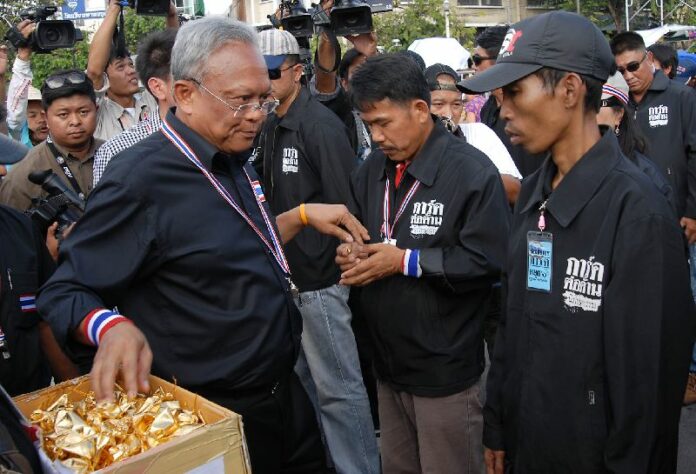 (18 November) Bangkok Metropolitan Authority (BMA) says it is prepared to handle two rival mass protests due to take place in the capital city tomorrow.
Coinciding with the ongoing anti-government protests organised by the Democrat Party at Ratchadamnoen Avenue, the official leadership of the Redshirts are planning an overnight pro-government rally at Rajamangla Stadium in western Bangkok from 19-20 November.
The Redshirts rally will also overlap the high anticipated judgment of the Constitutional Court, scheduled to be delivered on 20 November, which will dictate whether the ruling Pheu Thai Party′s push to amend the 2007 Constitution is constitutional.
To cope with the situation, Mr. Vasan Meewong, spokesman of the Bangkok Governor, said the BMA has convened a meeting and delegated relevant officials to oversee the rallies in respective areas.
He added that mobile toilets and water tanks will be dispatched to the Rajamangala Stadium to service the Redshirts protesters. "The BMA will take care of all protest groups equally," said Mr. Vasan.
However, the spokesman voiced his concern that the work capacity of BMA officials have been greatly stretched by the ongoing protests. The additional duty of overseeing the political rallies has forced the officials to downscale services in other areas, according to Mr. Vasan, and the BMA has to apply for more budgets.
Meanwhile, Mr. Ekkanat Prompan, a spokesman of the anti-government protests, told reporters at Ratchadamnoen Avenue that the protests leader, Mr. Suthep Thaugsuban, has met with many security volunteers and instructed them to be extra-vigilant in maintaining the safety of the protesters.
Mr. Ekkanat said the meeting with the guards followed the concerns that a "third hand party" might be planning to infiltrate the protests and stir up violence on 24 November, the day which the protest leaders expected at least 1 million citizens to join the rally.
The spokesman of the protests said he is confident that the major rally on 24 November would be decisive enough to score victory for the protesters.
Mr. Ekkanat also called on Prime Minister Yingluck Shinawatra to take responsibility for her governmental "minions" who have accused the anti-government protesters of plotting an unrest. As for the Redshirts? rival rally on 19 November, Mr. Ekkanat said the Redshirts should refrain from putting pressure on the Constitutional Court.
"How the Redshirts leaders have threatened to reject the verdict and to escalate their campaigns if the ruling is unfair toward the government is a clear violation of the judicial powers," said Mr. Ekkanat.
For comments, or corrections to this article please contact: [email protected]
You can also find Khaosod English on Twitter and Facebook
http://twitter.com/KhaosodEnglish
http://www.facebook.com/KhaosodEnglish