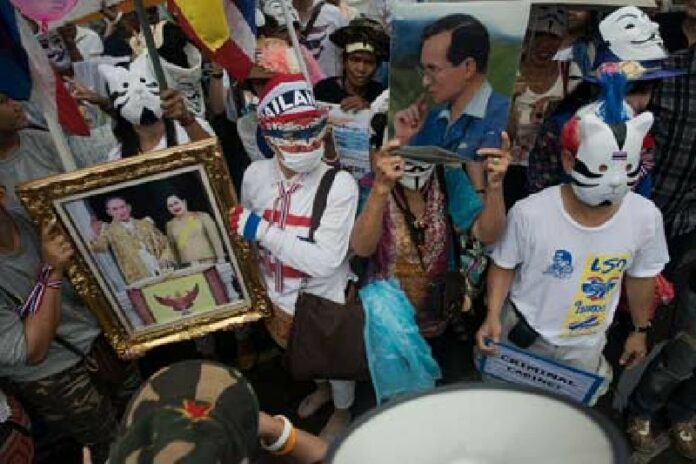 (18 November) A representative of the royal bloodline has called for a harsher enforcement of lese majeste laws, which criminalises any criticism of the Thai monarchy.
M.L. Suttichan Worawuth, representing the Rajanikul, a term referring to those related to His Majesty the King by blood, said he has submitted a letter this morning to Mr. Suranand Vejjajiva, Secretary General to Prime Minister Yingluck Shinawatra, demanding a "serious" effort to "protect the monarchy".
"There has been many insults of the institution [of the monarchy] via many means," said M.L. Suttichan, "But the Government has come up with no measures to protect the monarchy".
Any perceived insults or defamation of His Majesty the King, Her Majesty the Queen, and the Royal Heir are criminalised under Article 112 of the Thai Criminal Code, which can punish offenders with a maximum of 15 years in prison per offence.
The law has been criticised by many civil rights activists as a politicised tool to stiffen any discussion concerning the Thai monarchy.
But M.L. Suttichan believes the application of the law has been too relaxed. In the letter submitted to PM Yingluck, he also urged the Ministry of Information and Communication Technology to shut down any website that contains messages deemed offensive to the monarchy, and prosecute those responsible for the contents.
"The Prime Minister herself has given an oath to protect the monarchy when she took up the position," M.L. Suttichan said, "What we Royal Descendants want to see is a clear dedication in dealing with those who insult the monarchy".
He added that the Rajanikul will come up with "further response" if the government does not comply with their suggestion within 3 days.
For comments, or corrections to this article please contact: [email protected]
You can also find Khaosod English on Twitter and Facebook
http://twitter.com/KhaosodEnglish
http://www.facebook.com/KhaosodEnglish