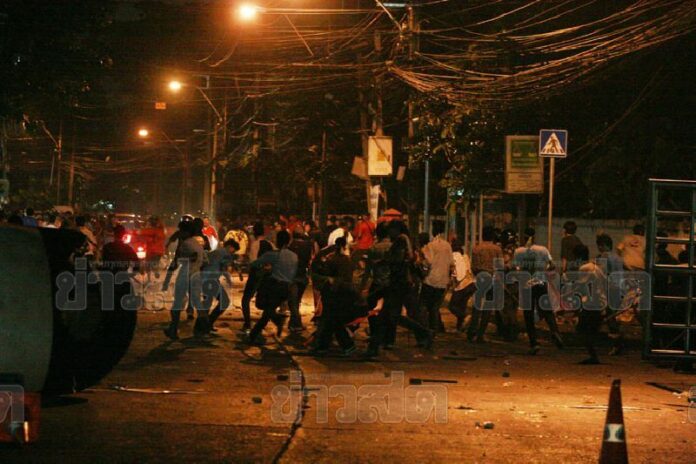 (2 December) The victims who lost their lives during nighttime clashes between rival protesters in Ramkhamhaeng district of Bangkok have been identified as one student from Ramkhamhaeng University and three Redshirts protesters.
The clashes erupted when a group of anti-government protesters, mostly composed of Ramkhamhaeng students, approached the vicinity of Rajamangala Stadium, where thousands of pro-government Redshirts protesters were holding their rally.
The violence which involved beating rival protesters and vandalising public vehicles in the afternoon deteriorated into street battles as night fell. Explosions and gunfire echoed in the area throughout the night, which forced the Redshirts leadership to call off their rally in the morning, citing concerns for the safety of their protesters.
According to Prachatai, rescue workers at Erawan Centre said three individuals had been killed by the violence: Mr. Taweesak Bhodikaew, 21; Mr. Wisanu Paopu, 26; and Mr. Viroj Khemnark, 43.
Prachatai identified Mr. Taweesak as a student from Ramkhamhaeng University, while Mr. Wisanu and Mr. Viroj are described as Redshirts protesters.
Whether Mr. Taweesak was participating in the clashes with other anti-government students is not immediately clear. His father, Mr. Naramet Teerarangsikul, was quoted as saying that he did not want his son′s death to be used as political discourse or as a tool to discredit any particular side.
"I have been pressured to choose side, but I want to confirm that my son belonged to no side," Mr. Naramet reportedly said, adding that the matter is now under legal procedure and that he wished the country would return to peace in the near future.
Meanwhile, Ms. Thida Thavornseth, chairwoman of the Redshirts official leadership, told Prachatai that one more Redshirts protester had been killed. The victim had been identified as Private Thanasith Viengkam, 23. According to Ms. Thida, his funeral is now being held at Yang Temple, Soi Onnuj 23.
All victims died from gunshot wounds, the report says.
The deadly clashes at Ramkhamhaeng have been claimed by both anti-government and pro-government factions as proofs of brutality of the opposing side. Many in both factions also accuse the police of failing to intervene and put an end to the clashes in timely manner.
For comments, or corrections to this article please contact: [email protected]
You can also find Khaosod English on Twitter and Facebook
http://twitter.com/KhaosodEnglish
http://www.facebook.com/KhaosodEnglish