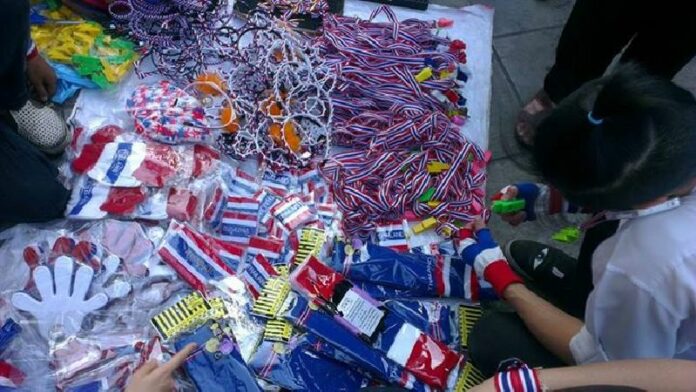 (16 January) Blue Sky TV has announced a crackdown on sales of counterfeit whistles in anti-government rally sites.
The satellite channel, which has been serving as official mouthpiece of the ongoing protests led by the People′s Committee for Absolute Democracy With the King As Head of State (PCAD), said on a Facebook post that sales of unauthorised whistles would no longer be tolerated.
A symbol of anti-government movements, the whistles are ubiquitously worn by PCAD supporters in their rallies and demonstrations.
But Blue Sky has previously complained that many vendors in PCAD rally sites have copied the special design of whistles officially adopted by the channel, which come in shapes similar to a lightning, and stated that these actions amount to copyrights infringement.
The channel also sells its own "premium" lightning-shaped whistles, costing up to 999 baht per piece.
In the same Facebook post, Blue Sky staff claimed that security guards employed by the channel have confiscated their first batch of countefeit whistles sold at PCAD rally site around Pathumwan Intersection, and said that the guards would do so in all other PCAD protest sites across Bangkok as well.
The announcement also asks for understanding from anti-government protesters, stating that vendors of counterfeit whistles are profiting from opportunistic business ventures which would undermine the channel′s enterprise.
Furthermore, Blue Sky channel would take legal action against manufacturers of these counterfeit items, according to the statement posted on Facebook.
The announcement has attracted many comments from the Netizens. While many expressed their support for Blue Sky′s crackdown on unauthorised whistles, others raised concerns that security guards employed by Blue Sky do not have legal power to confiscate items suspected of violating copyrights.
Some PCAD supporters also commented that the crackdown might alienate many vendors in the protest areas.
For comments, or corrections to this article please contact: [email protected]
You can also find Khaosod English on Twitter and Facebook
http://twitter.com/KhaosodEnglish
http://www.facebook.com/KhaosodEnglish