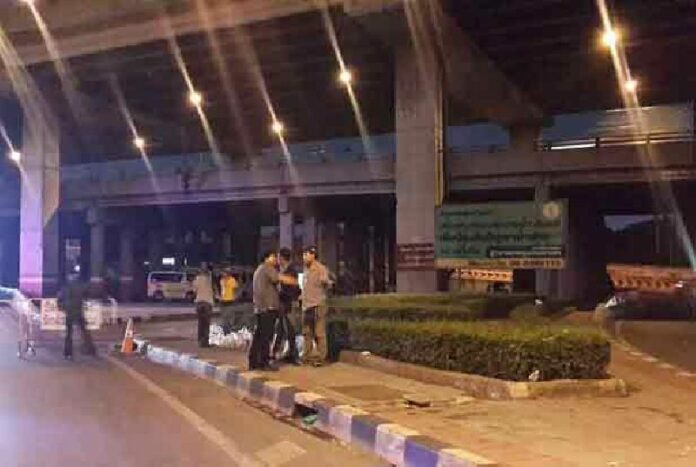 (16 January) Unidentified assailants have attacked two rally sites of anti-government protesters in Bangkok last night.
The fist attack took place at Ladprao intersection where supporters of the People′s Committee for Absolute Democracy With the King As Head of State (PCAD) have been occupying as a part of their "Bangkok Shutdown" campaign.
Witnesses said assailants on a vehicle sped past the camp site and threw an explosive device at the barricades before fleeing the scene. No injury has been reported, and the witnesses could not distinguish the type or license plate of the vehicle.
Initial investigation suggests that the bomb was a homemade explosive device. PCAD security guards have collected the bomb′s shrapnel and handed them to police officers for further investigation.
Another protest camp site near Rajavinit School in Dusit district also came under gunfire attack last night. Witnesses said individuals on a white Honda Jazz, whose license plate is said to be 1กย 8088, sprayed gunfire at the protest barricade lines and sped away in the darkness. No injury has been reported.
The camp site was under supervision of the Student and People Network for Thailand Reform (STR) at the time of the attack.
After the incident, STR guards forbade journalists from entering the protest site, citing concerns that the assailants might return for another round of attack.
The guards also stepped up their security measures around the protest camp, such as prohibiting vehicles from approaching the camp and increasing the guards′ patrols. The atmosphere at the STR rally site was said to be tense throughout the night.
For comments, or corrections to this article please contact: [email protected]
You can also find Khaosod English on Twitter and Facebook
http://twitter.com/KhaosodEnglish
http://www.facebook.com/KhaosodEnglish