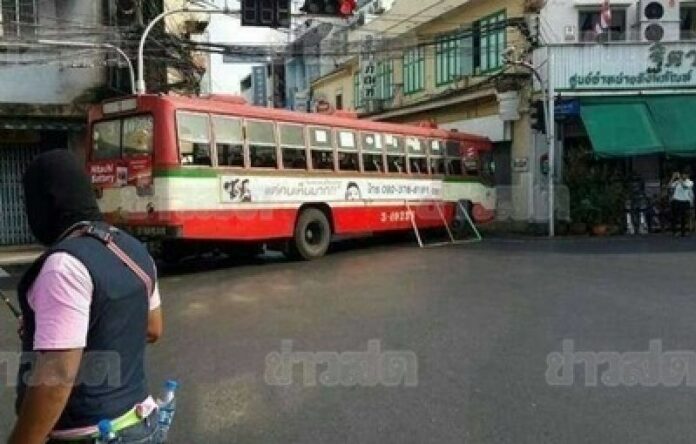 (18 February) A van carrying police officers has been reportedly targeted by anti-government armed militants near Jor Por Ror Intersection in Bangkok today.
According to Pol.Sgt.Maj. Udompon Arkarnrattanawan, he was riding in a police van with four other police officers from a police academy in Nakhon Pathom province which was headed for a meeting at Royal Thai Police headquarters in downtown Bangkok.
When the van exited Rama VIII Bridge approached Jor Por Ror intersection, which is currently occupied by supporters of the People′s Committee for Absolute Democracy With the King As Head of State (PCAD), the van suddenly came under a hail of gunfire from the protesters′ position, Pol.Sgt.Maj Udompon said.
"There were many gunshots," the officer said, "Every officer in the van panicked and ducked".
Two bullets managed to penetrate into the van but no officer was injured by the gunfire, Pol.Sgt.Maj. Udomphon said.
According to the policeman, once the gunfire died down, a group of protesters surrounded the van, pulled every officer off the vehicle, and started beating them. Pol.Sgt.Maj. Udompon said he was punched repeated in his face before he successfully eluded the attackers and sought help from PCAD guards at Misakawan Intersection.
The guards reportedly shielded the policeman from other protesters and escorted him to other police officers at the Bangkok Metropolitan Police headquarters.
Pol.Sgt.Maj. Udompon claimed he and other officers on the van were not apart of the ongoing police crackdown on PCAD protesters at Ratchadamnoen Avenue.
After speaking to our correspondent, Pol.Sgt.Maj. Udompon was promptly transported to hospital. Four other officers who were allegedly assaulted by PCAD protesters were also rescued and sent to hospital, a high-ranking police officer said, adding that one of the injured officers had been shot in his leg.
For comments, or corrections to this article please contact: [email protected]
You can also find Khaosod English on Twitter and Facebook
http://twitter.com/KhaosodEnglish
http://www.facebook.com/KhaosodEnglish