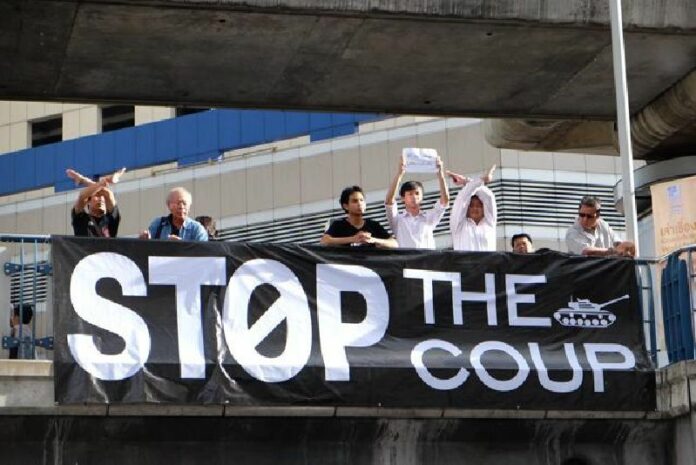 BANGKOK — The army has reportedly detained four protesters who were part of a 300-strong anti-coup rally in downtown Bangkok today.
The demonstration, held in defiance of the military junta's ban on public gatherings, was held on the elevated walkway in front of the Bangkok Art and Cultural Centre this evening.
"Soldiers get out!" protesters screamed at the rows of soldiers who were silently watching the rally take place.
Others shouted, "Prayuth get out!" in reference to army chief Gen. Prayuth Chan-ocha, who installed himself as the acting Prime Minister after seizing power yesterday.
The soldiers refrained from taking any action against the protesters until sundown, when the crowd began to dwindle.
Four protesters were reportedly detained by the military after a minor confrontation between soldiers and demonstrators. No injuries have been reported.
Earlier in the day, the crowd successfully forced soldiers who were initially stationed at the BACC to retreat toward Hua Chang Bridge. Many protesters chased after the troops, prompting the soldiers to form a new line and block the road in front of Sra Pathum Palace, the official residence of Princess Maha Chakri Sirindhorn.
The event was organised through a Facebook page titled "We Vote." Despite the military junta's warning of a crackdown on "disruptive" websites, social media has continued to serve as forum for political discussion and dissent.
The rally was one of several public displays of protest against yesterday's military coup.
Earlier today, student activists successfully forced their way into a memorial dedicated to 1973 student uprising on Ratchadamnoen Avenue, where they proceeded to hold rally condemning the army's takeover.
For comments, or corrections to this article please contact:[email protected]
You can also find Khaosod English on Twitter and Facebook
http://twitter.com/KhaosodEnglish
http://www.facebook.com/KhaosodEnglish