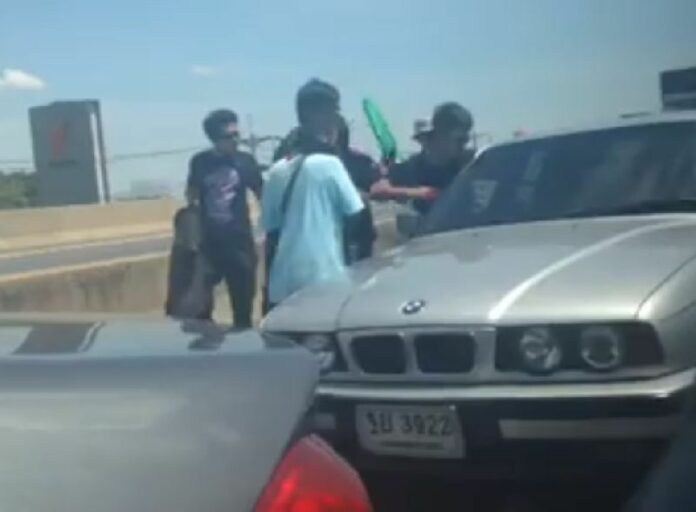 BANGKOK — A former security guard for the anti-government protest group that paralysed Bangkok streets for six months has been arrested for allegedly assaulting a motorist in May, police say.
Surasak Sowattanakul, a pilot, was on his way to Don Mueang Airport in northern Bangkok on 9 May when masked security guards with the People's Committee for Absolute Democracy With the King As Head of State (PCAD) asked him to park his car and roll down the window.
When Mr. Surasak refused, one of the guards broke his windshield with a handgun and another guard repeatedly punched him in the face until he fell unconscious, Mr. Surasak said in his testimony to the police. The assault on Mr. Sorasak was captured on video by another motorist, who later posted the video clip of the incident on Facebook.
Police say they arrested the PCAD guard who assaulted Mr. Surasak in Bangkok's Talingchan district last night, where he has been hiding for several weeks. The suspect was identified as 20-year-old Chaiwat Dee-ngam from Pitsanulok province.
"He wants to apologise for what happened. He explained that on the day of the incident, the weather was hot, and [Mr. Surasak] tried to drive his car toward them, so he committed the crime," Pol.Col. Charoonkiat told reporters.
He added that Mr. Chaiwat is currently detained at Thoong Song Hong Police Station and will be prosecuted according to the laws. Mr. Chaiwat has not yet been charged of a crime, said Pol.Lt.Col. Suwan Pol-in, an investigation officer at Thoong Song Hong Police.
PCAD guards, many of whom were armed, assaulted and intimidated a number of innocent bystanders during the PCAD's six-month protest campaign against the former government.