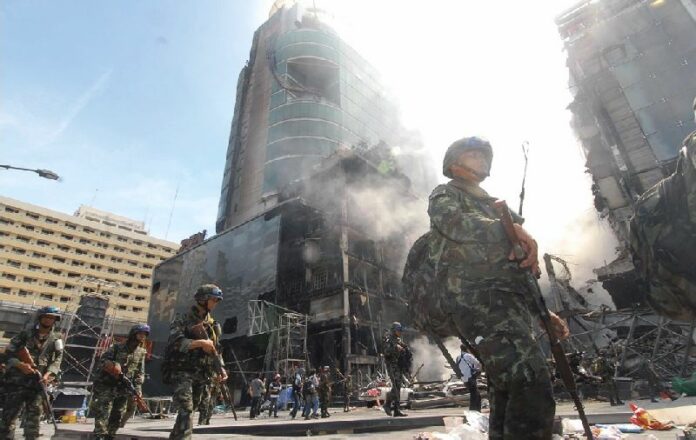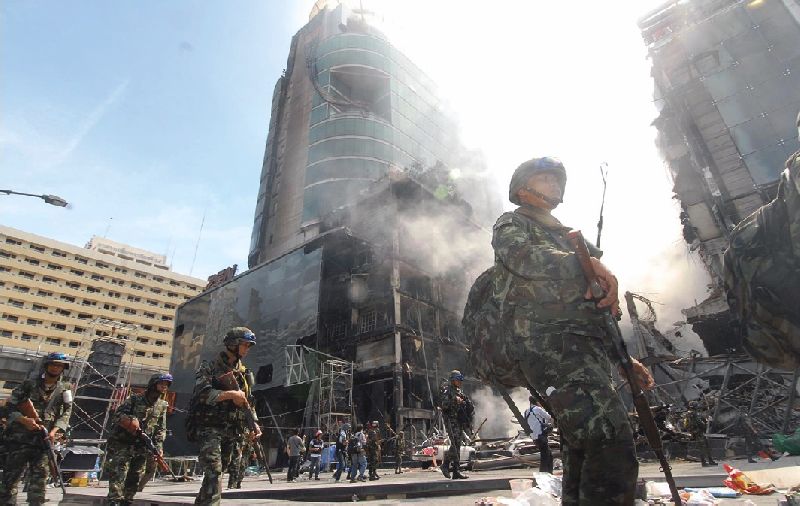 BANGKOK — Two Redshirt demonstrators accused of burning down a shopping mall in Bangkok during the political unrest in 2010 were acquitted by a Court of Appeals this morning.
Saichol Paebua and Pinij Channarong were charged with arson and violation of an Emergency Decree for allegedly torching the Central World shopping mall on 19 May, the final day of the mass Redshirt protests in Bangkok in 2010.
A Court of Appeals acquitted the pair of the arson charges this morning, affirming the previous court verdict.
"None of the witnesses presented by the prosecutor actually saw the defendants at the scene when the arson took place," Winyat Chartmontri, the lawyer who represented Mr. Saichol and Mr. Pinij, said after the ruling. "The prosecution witnesses' testimony was not sufficient."
However, Mr. Saichol and Mr. Pinij were found guilty of violating the Emergency Decree, which banned public protests in the capital city, for participating in the demonstration near Central World.
The pair was sentenced to nine months in prison, but the court ruled that they are not required to serve the sentence as they have already spent time in prison awaiting trial.
Mr. Saichol and Mr. Pinij, who were 26 and 28 on the day of the incident, were imprisoned between May 2010 and March 2013, when a lower court found them not guilty. Despite a lack of new evidence or testimonies, the prosecutor filed an appeal three months after the defendants walked free.
"I am so happy that the charges against me are dropped,"  Mr. Pinij said tearfully as he exited the court this morning. "I would like to thank the court for giving me mercy and justice."
The Office of Attorney General has the right to contest today's verdict, but the prosecutor must secure consent from a judge in the Court of Appeals to proceed with the appeal, said Mr. Winyat, the pair's lawyer.
Central World and dozens of other buildings were targeted by rioters on 19 May 2010 as the military moved in and cracked down on the anti-government Redshirt protesters who had been occupying the financial district of Bangkok.
For many Bangkokians, the arson attack on Central World, one of the largest shopping malls in Bangkok, became a defining moment of the political unrest that had gripped the capital city for months.
Critics of the Redshirt movement, such as the Yellowshirts and the Democrat Party, have frequently accused Redshirt leaders of engineering the arson attack and used the Central World incident to paint Redshirt protesters as "terrorists."
More than 90 people, mostly civilians, were killed in clashes between demonstrators and security forces in April-May 2010.