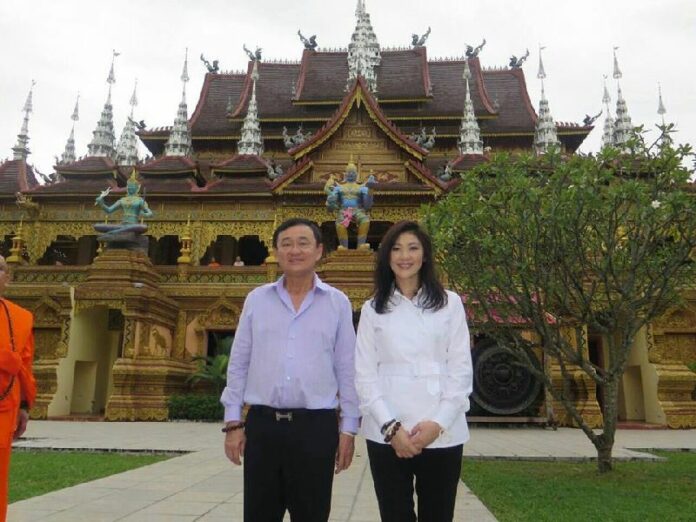 BANGKOK — Thailand's military ruler has asked the media to "cooperate" by not publishing news about the controversial former Prime Minister, Thaksin Shinawatra.
"The media should not publish news about that," Prime Minister Prayuth Chan-ocha said today after a reporter asked him about Thaksin's recent trip to southern China. Photos of the trip have been widely shared by Thaksin's devoted supporters on social media.
Gen. Prayuth continued, "Don't publish photos of persons who violate the law. That is all. Why are you still featuring news [about him?]"
He then stressed that he was merely asking for "cooperation," not issuing a prohibition of any kind.
Thaksin, a telecoms tycoon turned politician, was ousted in a military coup in September 2006. Shortly before a court convicted him in absentia of corruption charges in 2008, Thaksin fled the country and has been living in self-imposed exile ever since.
Despite living abroad, Thaksin has continued to wield considerable influence over Thai politics, mostly through the successive governments and political parties that have pledged their allegiance to him. The former Prime Minister is an immensely polarizing figure in Thailand, and the Kingdom's political factions are still largely drawn along pro- versus anti-Thaksin lines.
Since staging a coup this May against the government of Yingluck Shinawatra, Thaksin's younger sister, Gen. Prayuth's military junta has sought to dismantle Thaksin's extensive network of supporters. Hundreds of politicians, activists, and academics perceived to be sympathetic to Thaksin were summoned and briefly detained by the military after the coup, while a handful of Thaksin loyalists have fled the country to avoid persecution.
The junta has also ordered a number of reshuffles to minimize the influence of Thaksin's allies in the police force and bureaucracy.
In a press conference this morning, Gen. Prayuth claimed that news and photos of Thaksin could cause conflict in society. He asked the media to exercise good judgment and avoid creating disputes with their coverage.
"Everyone is entitled to freedom of the press, freedom of the people," the junta chairman said. "But if these freedoms lead to conflicts or violate other people's rights, they become inappropriate. Therefore, please don't make me use laws or power or force. I ask you to engage in conservations and find solutions for the problems that have been building up in the past."