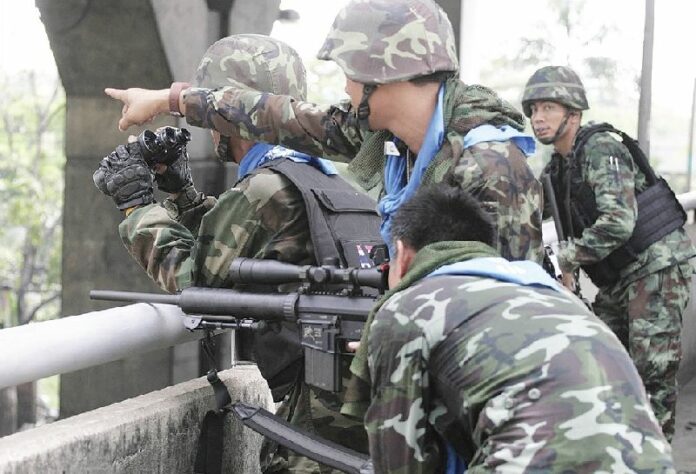 BANGKOK — Junta chairman and Prime Minister Prayuth Chan-ocha said he is willing to provide testimony to Thailand's anti-graft agency about his role as a top army commander in the 2010 military crackdown on Redshirt protesters.
On 24 February, the the National Anti-Corruption Commission (NACC) moved forward with "abuse of power" charges against former Prime Minister Abhisit Vejjajiva and his deputy Suthep Thaugsuban for authorizing the crackdown, which left over 90 people dead.

Redshirt demonstrators face off with riot police near Ratchaprasong Intersection in Bangkok, 6 April 2010​.
If found guilty, the pair could be retroactively impeached and banned from political office for five years.
Yesterday, Abhisit suggested that the NACC question military commanders such as Gen. Prayuth, who will be able to provide more details about the operation.
Speaking to reporters today, Gen. Prayuth said he has not received any requests to appear before the commission, but is ready to testify if he is summoned.
"I am ready to give information, but I may not need to be there personally. I can submit the information through documents," said Gen. Prayuth, who served as commander of the First Region Army during the crackdown.
Asked whether the investigation will affect the reputation of the military, Gen. Prayuth shot back, "How will that affect the military? The officers were performing their work."
He then raised his voice and told the reporters, "I want to ask you about this fact: were there armed people among the civilians? Were there? Answer me loudly. Were there Blackshirts among the Redshirts? Did they shoot at the soldiers? If so, then it's over."
Gen. Prayuth was referring to militants, known as the Blackshirts, who were allegedly allied to the Redshirts and exchanged fire with soldiers during the crackdown.
Abhisit, Suthep, Prayuth, and other military commanders insist that the Blackshirts, and not security officers, were responsible for much of the bloodshed. Suthep famously suggested in May 2010 that soldiers who were filmed firing into a temple on the last day of the crackdown were in fact "bandits" disguised as military officers.
However, the NACC noted in its briefing this week that court inquests have determined security officers to be responsible for many of the civilian deaths.
The effort to hold Abhisit and Suthep accountable for the 2010 crackdown was initially taken up by the Division of Special Investigation, which filed murder charges against the two politicians in 2011. The Criminal Court eventually dropped the case last August, and granted the NACC authority to try Abhisit and Suthep in the Supreme Court's Division for Holders of Political Office.
Military commanders who oversaw the operation, such as Gen. Prayuth, Gen. Anupong Paochinda, and Gen. Prawit Wongsuwan, have never been formally included in the investigation.
Human rights groups have repeatedly faulted Thai authorities for failing to hold state officials accountable for the 2010 crackdown.