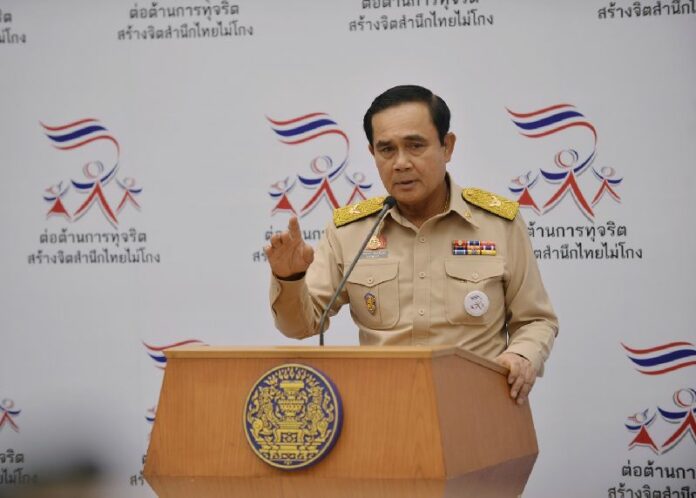 BANGKOK — Junta chairman and Prime Minister Gen. Prayuth Chan-ocha does not wish to be asked about whether he will delay elections and stay in power for two more years, his spokesperson said.
"The Prime Minister thanks the people for showing him support and seeing this government's dedication in working for the country," said the spokesman, Maj.Gen. Sansern Kaewkamnerd. "He also asked the media to stop asking him questions in that manner, because he is not concerned with holding on to power or any office. He is only focused on to his responsibility for the country."
Maj.Gen. Sansern stressed, "Gen. Prayuth is not interested in the question, and he will refrain from answering that question in the future."
The spokesperson was referring to a proposal put forth by members of the junta-appointed National Reform Council (NRC) that calls for holding a referendum on whether Gen. Prayuth should push back elections for two more years in order to complete his government's reform projects.
Under the junta's current schedule for a return to civilian rule, the next election is expected to take place in September 2016 at the earliest.
In previous speeches, Gen. Prayuth has hinted that he would accept the the 2-year extension if the Thai people approve it in a referendum.
"If it is the voice of the people, how can I oppose it?" the general rhetorically asked on 5 June.
Speaking to reporters today, Maj.Gen. Sansern reiterated that Gen. Prayuth will "listen to the voice of the people" when making a decision.
After toppling a democratically-elected government in May 2014, Gen. Prayuth appointed the NRC to propose reforms across a variety of sectors – including politics, economy, culture, and media – and assist with the drafting of a new charter. The junta has also used emergency powers to enact other reform measures aimed at solving issues like land encroachment, organized crimes, and human trafficking.
The reform process has been coupled with a severe suppression of civil rights in Thailand. Political activities and protests of all kind remain banned by the junta, and violators have been sent to stand trial in martial court, where they face up to one year in prison if found guilty. Many media agencies have also been pressured to practice self-censorship.
For comments, or corrections to this article please contact: [email protected]
You can also find Khaosod English on Twitter and Facebook
http://twitter.com/KhaosodEnglish
http://www.facebook.com/KhaosodEnglish