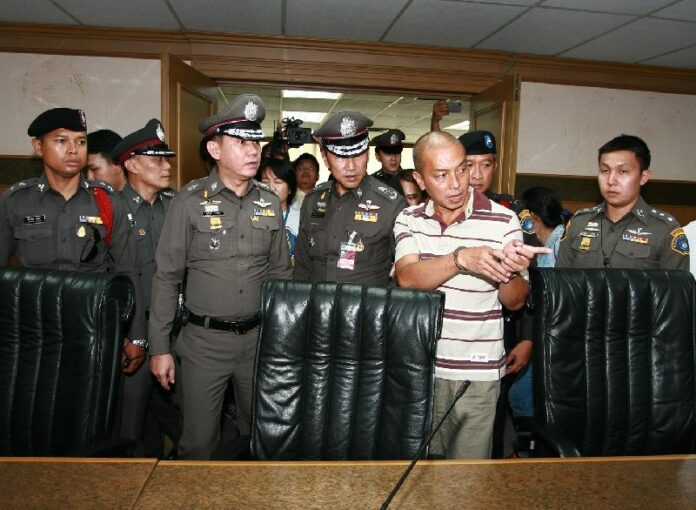 BANGKOK — A close aide to the former wife of Thailand's Crown Prince has confessed to abusing his royal ties to secure top positions in state agencies.
Montri Sotangkul, former chamberlain to ex-princess Srirasmi, was arrested on 10 June on charges of lese majeste (insulting the monarchy) and bribing state officials.
Police say Montri exploited his position as a senior official in the Royal Household Bureau to win seats on the executive boards of several state enterprises, and to secure the rights to buy and sell land in Bangkok.
After being detained and interrogated at the police headquarters in Bangkok, Montri was taken for a "crime reenactment" at CAT Telecom – a state-owned telecommunication agency – and the Ministry of Information, Communication, and Technology today. At each building Montri pointed to the seats in the meeting rooms where he allegedly pressured officials into appointing him as an executive board member.
Montri was later taken to the Ministry of Energy where he similarly pointed to the spot where he allegedly asked officials to name him an executive of PTT, a state-owned petroleum enterprise.
"I have indeed committed the wrongdoing," Montri told reporters. "I confess to all charges. Now I feel repentant. I regret what I have done."
Once Montri completed his "crime-reenactment" sessions, he was handed over to the court, where a judge ordered him to be remanded. Montri was not accompanied by a lawyer.
Pol.Maj.Gen. Sriwarah Rangsipramnakul, commander of Bangkok Metropolitan Police, said Montri will be held at an undisclosed location – and not Bangkok Remand Prison – while he awaits trial "for the sake of safety of the suspect."
Montri is facing up to 20 years in prison, as defaming the monarchy alone carries up to fifteen years under Section 112 of the Thai Criminal Codes, a law known as lese majeste.
Pol.Gen. Somyot Pumpanmuang also told reporters today that authorities will confiscate or freeze Montri's assets if they are proven to be related to his alleged wrongdoing.
Montri is the latest person close to former Princess Srirasmi who has been charged with lese majeste in the past year. Her brothers, sister, parents, and uncle are all serving time in prison after being convicted of the crime, which carries a heavy stigma in Thai society.
Srirasmi has not been seen in public since she resigned from the royal family in December 2014 amidst the scandal.
Earlier this week, Pol.Gen. Somyot told reporters that former Princess Srirasmi personally appointed Montri to her entourage, and that the Crown Prince was not involved in her decision.