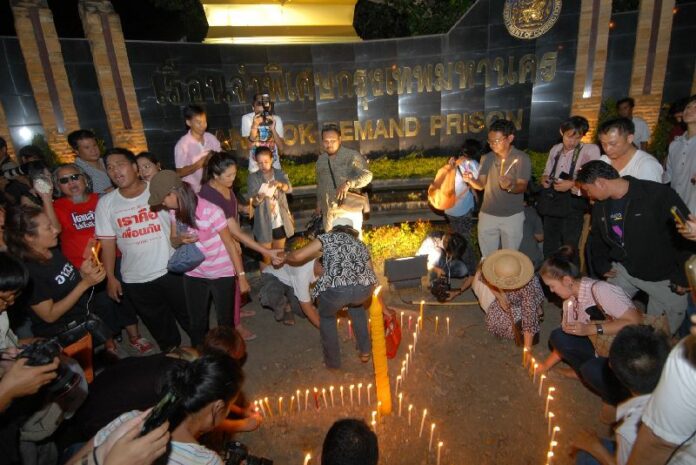 BANGKOK – Thailand's military junta has brushed off calls from the United Nations and European Union to release 14 pro-democracy activists who have been imprisoned for staging a peaceful demonstration against the regime.
In statements released yesterday, the UN's South East Asia human rights office urged the junta "to promptly drop the criminal charges," and the EU declared the arrests a "disturbing" violation of free speech and human rights. Nearly 300 university lecturers in Thailand also signed a petition calling on the military junta to release the activists unconditionally.
However, a spokesperson for the junta, known as the National Council for Peace and Order (NCPO), asked the organizations to have more faith in Thailand's justice system.
"These international organizations should not worry about the Thai authorities' procedure in this case, because Thai laws will only punish wrongdoers," Col. Winthai Suvaree said today. "If they deliberate on the facts in a full way, with information from all sides, they will see that Thai officials have processed this case in a straightforward manner, using principles based on laws, political science, and nature of Thai society. I believe Thai society and the international community will have understanding about this context."
The activists, most of whom are university students, were arrested last Friday after leading a small pro-democracy demonstration in Bangkok, and are now facing up to seven years in prison on charges of inciting unrest and violating the junta's ban on public gatherings. The thirteen men and one woman are being held in prisons while they await trial in a martial court, which the junta has assigned to oversee cases concerning threats to "national security."
Several dozen people gathered outside of Bangkok Remand Prison last night to hold a candlelight vigil calling for the activists' release.
Speaking to reporters today, the junta spokesperson also dismissed the accusation that the military government is restricting free speech, and said people are welcome to express their opinions through "appropriate channels" provided by the junta.
"If we allow people to break the laws with excuse about rights and liberty, how can the society have peace?" he said. "Right now, some people have hidden agenda. They are trying to create situations that will bring more conflict."
Junta leaders insisted this week that the student activists are backed by high-level politicians, but have refused to identify anyone by name.
The activists, who belong to university student networks in Bangkok and Khon Kaen,
have posed the most consistent challenge to the military government this year, as Thailand's top politicians and major political organizations have largely stayed quiet under orders from the junta
.