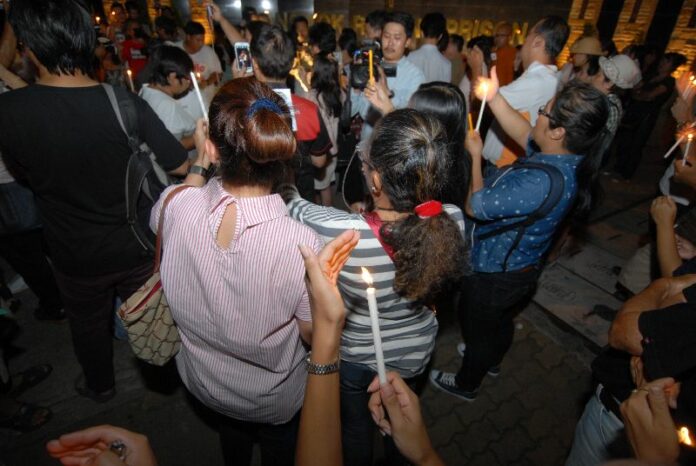 BANGKOK — Thailand's military leader said he is personally troubled by the arrests and imprisonment of fourteen pro-democracy activists, but insisted that the investigation must go on.
"I am looking for a measure to open up dialogue and put an end to this matter," Gen. Prayuth Chan-ocha said this morning, five days after the 14 activists were arrested in Bangkok for a peaceful demonstration against his military government. "I have to admit that I feel uncomfortable at the use of the laws against these students."
"But at the same time," he continued, "we have to look at it from another angle, we have to look at the behavior and expression of these people. Are these actions of innocent children? Are politicians behind them? We have to prove it. We are investigating it right now."
Gen. Prayuth has dismissed calls from the UN and European Union to release the 14 activists, eleven of whom are students at universities in Bangkok and Khon Kaen. The activists have been charged with inciting arrest for leading a small anti-junta gathering in Bangkok last week, and are now facing up to seven years in prison.
Asked by a reporter whether he could use Article 44 of the interim charter to grant amnesty to the activists, Gen. Prayuth said, "I cannot. If did, I would have to use Article 44 to grant amnesty to other people, too. It will go on without end."
Under Article 44 of the interim charter penned by the junta after the May 2014 coup, Gen. Prayuth is authorized to issue any legally-binding order without oversight. Gen. Prayuth has used the emergency power to ban public gatherings, censor the media, and allow security officers to search and detain individuals without charges.
Monks and other supporters gathered outside of Bangkok Remand Prison on 30 June 2015 to hold a candlelight vigil calling for the activists' release.
Last night, around 50 people attended a candlelight vigil in front the prison where the 13 male activists are being held while they await trial. The 22-year-old female student belonging to the activist group, which calls itself the Neo-Democracy Movement, is being held in a separate prison for women.
Ten police officers observed the gathering, but did not interfere. "There will be no arrests," said Pol.Col. Thananthorn Rattanasitthiphak, superintendent of a local police station. "People can do activities to show support for the students, but they must not display any political symbols or use words that express political opinions."
The group lit candles and sang popular activist anthems, including John Lennon's Imagine, before dispersing peacefully at around 8pm.
Phra Mahapraiwan Worawannano, a monk from Wat Soi Thong Temple, said he attended the vigil because he wanted to show Gen. Prayuth that "his actions toward the students are unjust."
"This place is dark and full of injustice, so we have to light candles to bring light," said the monk, who contributed by bringing a large Buddhist Lent candle from his temple. "We are not inciting anything here. We are expressing ourselves in accordance with our liberties and rights."
For comments, or corrections to this article please contact: [email protected]