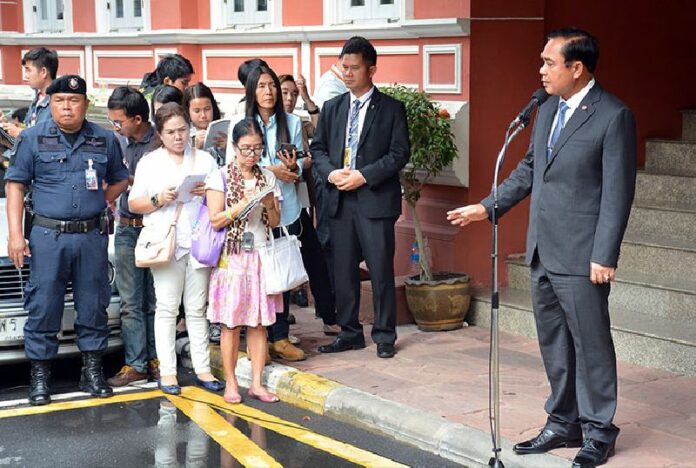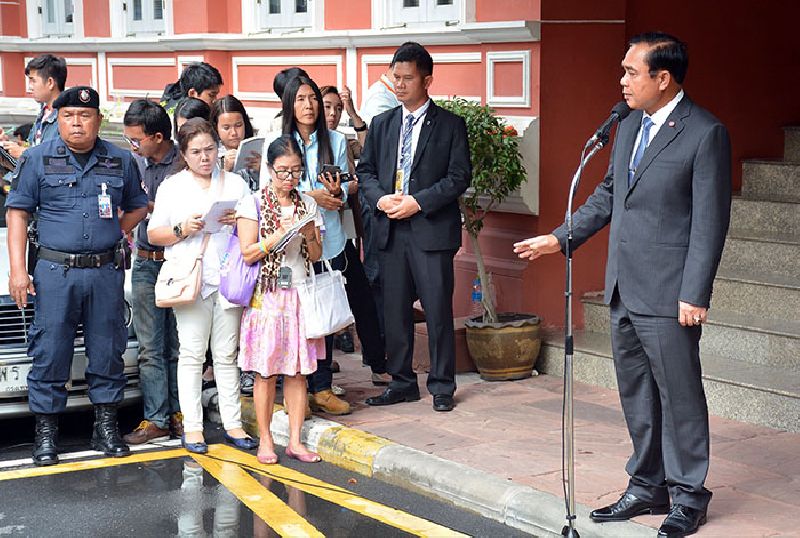 BANGKOK — Junta chairman and Prime Minister Prayuth Chan-ocha today vowed to escalate the suppression of his military regime's critics and asked the media not to give them a platform.
In an angry outburst to the press at Government House today, Gen. Prayuth warned that his regime, which seized power from the Pheu Thai-led government last May, will escalate its measures against politicians who continue to criticize his government through passport cancellations, military detention, prison terms and even "taping their mouths shut."
"You cannot oppose me. No one will let you to do that. I hold it that I have given you many chances already," said the general, who upon seizing power in 2014 placed a ban on protests, political activities and any kind of public challenge to his rule.
Prayuth's tirade came just amid an uptick of actions against dissenters, all aligned with the former government he removed from power. Just today, junta officials confirmed that Pheu Thai politician Pichai Naripatapan was taken into indefinite military detention yesterday for "attitude adjustment" after he refused to stop criticizing the military junta. Pheu Thai's Karun Hosakul was also reported today to have been detained today, and last week it pulled the passport of another frequent critic, Chaturon Chaisaeng.
Below is an excerpt of Prayuth's speech at Government House today.
Reporter: Why did security officers summon Pichai this time? What was his fault?
Prayuth: It's in accordance with the order, which is about expression of opinions. You media, do you think his opinions are good? What good does it do for the society? Is it going to cause unrest again? I don't want to use my power, but I have already assigned my power [to the security force]. Therefore, it's up to them to deliberate. If the opinions appear to challenge the state power, can it be allowed? I have let them off the hook many times already.
Reporter: Is this summons for attitude adjustment or detention?
Prayuth: Oh, we want to give him free food, I guess? Yeah, we treat him to meals.
Reporter: Is he going to be detained for seven days?
Prayuth: I don't know. They are deliberating on it. How many days can my power detain him? Is it seven? I don't know. It's up to the conclusion of the interrogators. That's how they are taught: The sooner the [detainees] confess, the faster it's over. If they do not confess, then the case will go on.
Reporter: Was Karun Hosakul also summoned?
Prayuth: Probably.
Reporter: Apart from Pichai, who else will be summoned?
Prayuth: I already told you, I will deliberate on this myself. Whether there will be harsh or soft measures is up to me.
Reporter: So there will be more summons?
Prayuth: I don't know. We have to see, what causes trouble and unrest in our country. Does the media want this country to be peaceful? People who say bad things and cause harm with their words, should they say those things? If you don't want to have peace and order, bring them all out. Let them speak whatever they want. And don't blame me for that. Don't make me responsible for that.
Reporter: Will you take any action against websites that criticize you?
Prayuth: Relevant officials and the Ministry of ICT [Information, Communication and Technology] are working on it. But I don't know what they can do, because these websites are based abroad. We can only do something about websites in our country, and we are doing something. If these websites are from abroad, how can we shut them down? For example, YouTube. In legal terms, they don't have 112 [lese majeste law]. They don't have that kind of law. We have to respect that.
Reporter: Apart from revoking passports and detentions, will there be other measures?
Prayuth: I'm just going to tape their mouths shut. We are working on this matter. The media doesn't have to ask everything every day. Don't force the prime minister to order everything. And as for politicians and political parties that keep talking these days, I beg you, if you don't slander me with your words, I will leave you alone. But if you still attack the government, let me ask you, who will let you do that? Especially my type of government. No one can speak like that. In the past, I let you talk and write on social media. You can write anything. But you cannot oppose me. No one will let you to do that. I hold that I have given you many chances already.
Reporter: So only harsh words [will be punished]?
Prayuth: If you are parents with kids, and your children say that kind of thing to you, will you let them? I am not their parent. But let me ask you, if your children disobeyed your order, would you tolerate that? Those people who like to break the laws, they cannot do that to me.
Reporter: What if these people won't stop?
Prayuth: If they won't learn, they will be jailed again and again. That's all. How hard can be it? If they do something wrong again, they will be jailed again.
Reporter: Is this an attempt to discredit you before you travel to the United Nations Assembly?
Prayuth: Why? Are they not going to invite me? The media has to help me sometimes. I ask you, the people who do this kind of thing, do they do good things? The media has to present news with both sides. If you only present the other side, and this country goes to hell, who will be responsible? And this network doesn't cause me any trouble. When I go abroad, no one shows disgust at me. And when I go abroad, I have someone taking care of the country for me. I am not afraid. If I am afraid, I wouldn't be standing here.
I know the danger, but 60, 70 million people lost opportunities for all their lives. Farmers, crop growers. What are you going to say to them? Does the media look at them and talk about them at all? You only write for the two sides to fight each other. That's it. The media never helps me. They only [criticize] me. I am not saying all politicians are bad. Any of them who knows they are bad and fight the case in justice system, and if the system says they are not guilty, then they are not guilty. If they are guilty, they should try to find solutions in the justice system. This is reconciliation.
But these days, they still fight me about the justice system. And why do the media write for these people? Some people seek out foreign news that criticizes me and criticizes Thailand, and they translate it into Thai. I beg you, the media, to show me some fairness. Think carefully: People whose cases are still in the justice system, should you write news for them? You don't even know if they are going to jail. Why are you helping them? People who fled convictions, who fled abroad, who support anti-monarchy activities, why are you still talking to them? You don't love the monarchy? You don't love the country? You question me and make me angry. Society will pressure me. And how can we live like this? We won't have happiness.
Related stories:
Junta to Hold Politician 'Until He Cooperates'
Critic's Passport Revoked as Junta Reaffirms Ban on Criticism
To reach us about this article or another matter, please contact us by e-mail at: [email protected].