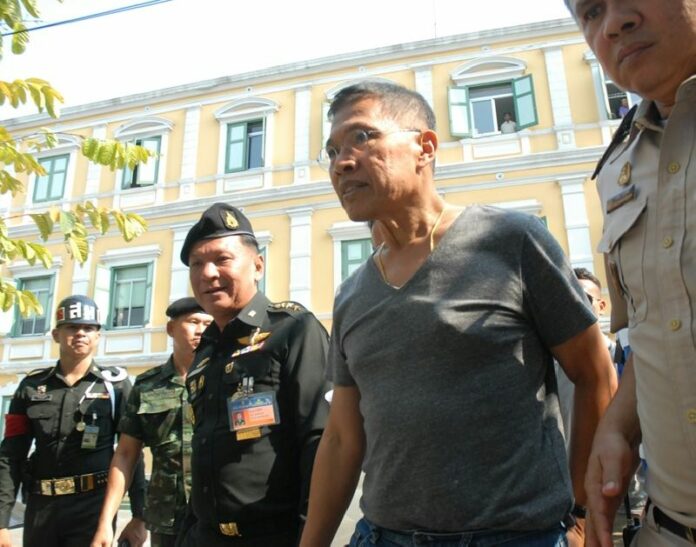 BANGKOK — Activists today canceled daily protests demanding the release of Pheu Thai politico Watana Muangsook from military detention after a martial court released him on bail this afternoon.
After spending three days in army custody, Watana was brought to the military court in Bangkok on Thursday afternoon where he was charged with violating the junta's ban on protests. The 59-year-old veteran politician was subsequently released on a bond of 80,000 baht.
---
Watana Faces Prosecution for Breaking Pledge to Junta
---
Watana's lawyer told the media the martial court barred him from "inciting unrest," participating in political activities and leaving the country without its permission.
He was scheduled to be freed at Bangkok Remand Prison later Thursday night.
Prompted by news of Watana's imminent freedom, activists canceled what would have been the third of small daily protests on his behalf, saying there's no longer any need.
The group pledged to continue organizing resistance to the military regime.
"Resistant Citizen hereby calls a halt to the silent vigil today at BTS Chong Nonsi and the full-scale activity tomorrow," the group wrote on its Facebook page. "However, Resistant Citizen still insists on our stance that we will continue to organize activities to defend citizens and resist the violation of rights and liberty."
Related stories:
Frustration Boils Over at Rare, Brief Protest
Activists Promise Protest if Watana Not Released by Military
Watana Defiant as He Turns Himself in at Army Base
Teeranai Charuvastra can be reached at [email protected] and @Teeranai_C.