BANGKOK — Twenty-five months after the coup makers rolled out their tanks and armed soldiers to seize power, pro-democracy student activists have secured tanks, guns and soldiers of their own. The only catch is those on the pro-democracy side are much smaller, made of plastic, and only cost 2,000 baht so far.
On Sunday, their absurdist approach to civil disobedience soared to new heights over Thammasat University in the form of about 100 balloons carrying the message "voting no is not a crime."
Yet those dispatching the toys and balloons say their symbolic resistance is not a joke, but the latest tactics in the spirit of the three-finger "Hunger Games" salute, eating sandwiches, reading "1984," and more used in the past.
Chonthicha Jangrew, a pro-democracy activist accused of sedition in June 2015, said a symbolic campaign was a new way to usher in change.
Anyone can participate, she said, without risking arrest by hitting the streets to protest.
"Floating balloons is the latest move. The balloons don't need to contain the same messages," Chonticha said. "The strength of symbolic struggle is in turning the little things into symbols and showing how dictators try to increasingly control our daily lives."
As more than 500 people listened Sunday to prominent activists express opposition to the draft charter call for the right to campaign openly against it and condemn the arrests of those who have, some student activists were busy deploying soldiers and floating balloons.
"After our friends came out to campaign and got arrested and imprisoned, we may not be able to campaign publicly or show our faces, so we employ toys in order to express ourselves," said the 23-year-old senior Thammasat student who came up with the idea.
She asked that her name not be used because she has suffered harassment and intimidation from junta supporters.
She's a member of the League of Liberal Thammasat for Democracy, whose members have made #FreeDollsforFreedom a thing on social media.
The Absurdity Game
It's a tactic of provocation. The more the junta goes after seemingly harmless and trivial actions, its proponents say, the smaller they will appear.
"The more they crack down and shut down such spaces, the more the regime looks absurd in the eyes of the public," said Rackchart Wong-arthicart, a Thammasat postgraduate student. He was among the 13 accused of campaigning against the draft charter and arrested late last month. He's among the six to be released on bail; seven remain jailed for refusing to seek bail.
On Sunday Rackchart wore his own designer T-shirt.
"We Love [heart] Gen. Prayuth," the front read in English in reference to junta leader Prayuth Chan-ocha. On the back, a twist lying in a lower corner: two fingers crossed. Rackchart said he has sold 50 of the 100 he printed over Facebook for 300 baht each.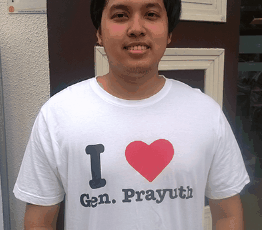 "If I can't hate him, I will express my 'love' for him," Rakchart said. "It's like we're being forced to say it."
Seeing such small things treated as threats to national security, he said, is the point of symbolic resistance.
Cute, But Effective?
Are toys, T-shirts and balloons just gimmicks used by a middle class movement to tweak the junta's nose without any real punch?
Those involved say no, but admit the strategy is born of necessity.
"The more they prevent us, the weaker [the junta] becomes… People will feel that the growing list of what cannot be done has become unbearable," Rackchart said.
Kittithat Sumalnop, known as "Champ 1984" for the indelible images of him being dragged away in June 2014 for reading Orwell's seminal book, said symbolic struggle should catch on.
However mass street protests, he said, are more likely to oust a regime.
"At a time when dictators strictly control citizens, even compared to the 2006 coup makers, we can't do things on a grand scale… Those who tried right after the [2014 coup] were arrested," Kittithat said. "This is why symbolic protests have been employed to retaliate," Kittithat said, before retiring to attend to his assembled army of toy soldiers.
Next to his miniature army, a quote from the People's Party Proclamation issued during the 1932 democratic revolution:
"All people should know that this country of ours belongs to the people."
นี่แอบชอบแคมเปญ #FreedollsForFreedom ในยุคสมัยที่ไม่สามารถแสงออกได้ ก็ใช้ตุ๊กตาพูดแทน pic.twitter.com/bjKhkkZD6B

— bangbeem (@bangbeem) July 2, 2016
http://twitter.com/suksomkith/status/748474192081739776
#FreedollsForFreedom pic.twitter.com/HB4sKRVlUT

— Gun (@bigmagun) July 1, 2016