YALA — Authorities are beefing up security for this Thursday's Eid al-Fitr celebration in the wake of a spate of deadly bombings in the restive southern border provinces over the weekend.
The latest surge of separatist violence left three dead and crippled the railway route that connects Bangkok with the Malaysian border just days before tens of thousands of commuters are expected to travel to home to mark the end of Ramadan.
A spokesman for the counterinsurgency taskforce blamed the violence on "heretics" – a common euphemism for Muslim separatists – intent on harassing local Muslims in their final week of the Holy Month.
"[It's a time] in which our Thai Muslim brothers and sisters must be most strict in their religious activities, yet the perpetrators still try to create chaos in many forms in many areas," Col. Pramote Prom-in of the Internal Security Operation Command said Monday. "They acted in accordance with their distorted belief that they will receive more glory if they create chaos in this period."
He continued, "This behavior is the behavior of heretics who will be punished by God."
On Sunday night a bomb exploded close to the Central Mosque of Pattani, killing one police officer and wounding three others. Earlier that day another bomb, said to weigh more than 100 kilograms, struck the railroad near Rueso Railway Station.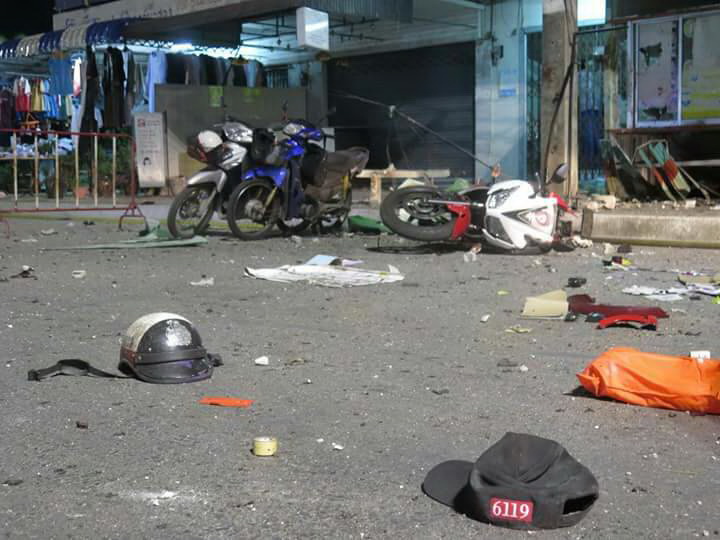 No one was injured in the latter attack, but the bomb managed to damage the tracks and caused major disruption to the southern railway network.
As of Monday afternoon, all trains had to stop at Yala Railway Station, where passengers were made to complete their journeys by bus. Railway officials announced they're working to fix the tracks, but did not say when the work would be done.
Also on Sunday, two people on motorcycle were killed when a roadside bomb went off in Yala. Police said the one of the victims used to work for law enforcement officers.
Although no one has claimed responsibility for the attacks, officials believe it was staged by the same separatist militants who have been waging a bloody secessionist campaign in the region, known as the Deep South, since 2004.
The insurgents aim to secede the three Muslim-majority provinces and revive the Islamic nation of Patani, which was annexed by Bangkok in the early 20th century.
Col. Pramote said security forces will implement several measures for Eid, such as setting up more checkpoints and deploying more troops in "vulnerable areas."