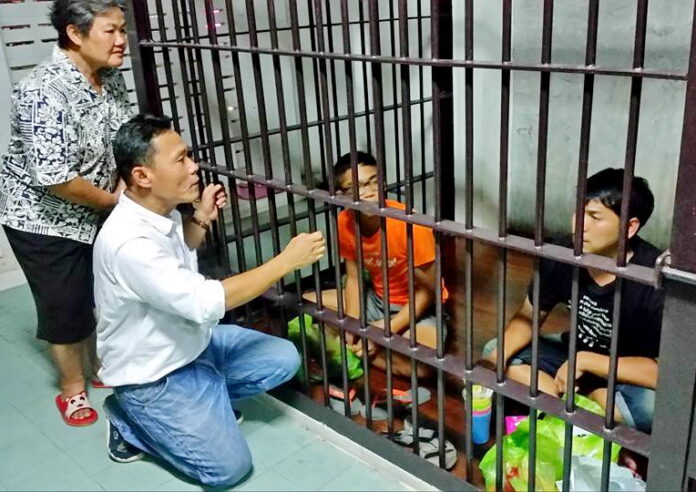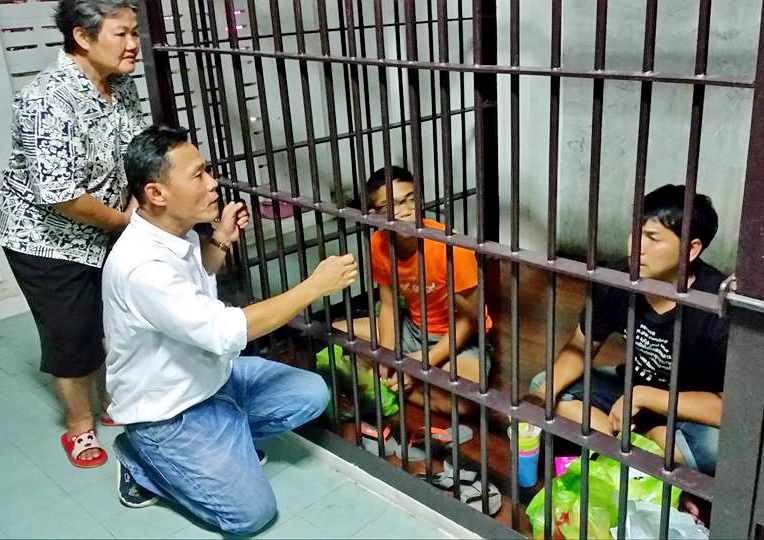 Update: The Ratchaburi provincial court Monday afternoon freed all five suspects on bonds of 140,000 baht to await trial.
BANGKOK — A human rights lawyer said four activists and a reporter arrested on suspicion of intending to violate a recent law which criminalized public criticism of the junta-backed charter will not seek bail and instead demand their release Monday.
Attorney Arnon Nampa said the five, arrested Sunday in Ratchaburi province and accused of violating the Referendum Act by spreading false information and vulgar messages about the charter, told him through messages Monday morning that they would insist on their innocence when they were taken before a provincial court.
"The five will not seek bail, as they insist they're innocent," he said. "The Prachatai.com reporter will insist on his freedom to carry out his work."
Arnon was referring to 25-year-old reporter Taweesak Kerdpoka, who was arrested at about 11.30am on Sunday while traveling in a vehicle with three members of the New Democracy Movement: Pakorn Areekul, Anucha Rungmorakot and Anan Loked. Searching the vehicle, authorities found booklets they deemed critical of the charter, which goes to a public vote Aug. 7 in a vote increasingly viewed as a referendum on the junta.
All five people held on suspicion of intending to violate the Referendum Law were led from Ratchaburi's Banpong Police Station on Monday to be taken to the provincial court.
Taweesak, a reporter for activist news organization Prachatai, was only in the car with the activists for a ride back to Bangkok, according to Director Chiranuch Premchaiporn.
A fourth student activist, Panuwat Songsawatchai of Maejo University in Chiang Mai was also arrested in Ratchaburi at about 8pm on Sunday after police reportedly saw footage of him carrying a box out of the car, which belonged to Pakorn.
Arnon said the five could still change their minds on whether to seek bail.
Rangsiman Rome, a student leader of the activist group, said it had no policy on whether its activists should refuse bail, saying it was up to each individual. Rome was among seven activists to be freed this past Tuesday after being imprisoned for 12 days and refusing bail in a challenge to the military tribunal. They still face trial on charges of violating the referendum law and a junta-imposed ban on political gatherings.
"No one is being forced. If you are willing and you think you can handle it then it's okay. I think they feel they're not really getting justice," he said. "Normally people seek bail to fight the case, but in this case, they feel they are not getting any justice. They haven't done anything yet and just got arrested."
Defense attorney Arnon, a member of Thai Lawyers for Human Rights, said he would take 1 million baht in donation legal funds with him as possible bond money.
"I have to prepare because they can always change their minds," he said. Ratchaburi is about one hour's drive west of Bangkok.
Prachatai Director Chiranuch said the organization would not use funds donated to Arnon's group for political activists and has prepared its own bond money should Taweesak seek release.
"We think what he did was not wrong, so we respect his decision not to seek bail," Chiranuch said.
Taweesak suffers from mild asthma and requires regular medication, she said.
The five were held overnight at Ratchaburi's Banpong Police Station and were due to be taken to Ratchaburi Provincial Court on Monday afternoon. If convicted under the Referendum Law, they face up to 10 years in prison.
Related stories:
Reporter Arrested While Reporting on Referendum in Ratchaburi