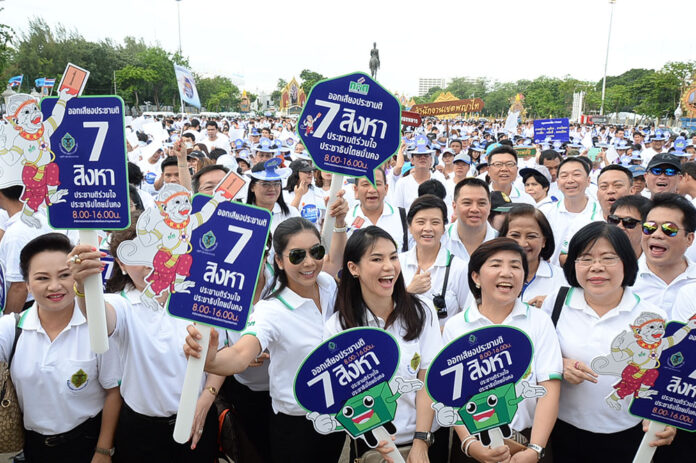 BANGKOK — Some critics remain skeptical of why the Election Commission will stop publicizing electronic returns Sunday evening after 95 percent of the votes have come in.
Concerned the military regime will follow its suppression of debate over the charter with outright manipulation of the polls, critics say the decision to withhold immediate release of 5 percent of the vote, creates, at a minimum, a bad appearance.
Read: How Referendum Sunday is Supposed to Go Down, Step-by-Step
"I am worried," said Rangsiman Rome, a student leader of the New Democracy Movement. "If the results are unclear it could raise tensions in Thai society. If the Election Commission is slow, people will become tense and fear that rigging may have taken place."
As some foreign rights groups are dismissing the referendum as hopelessly flawed, even neutral parties such as regional election monitor Pongsak Chanon said it makes no sense to place a cap on the results.
Pongsak, of the Asian Network for Free Elections, stressed that it sows doubts about whether the results will be manipulated.
"Why don't they just release the count up to 100 percent, or as much as possible? The least we want to see is a full [unofficial] reporting so there won't be any confusion," Pongsak said.
Pongsak, whose group ANFREL will dispatch fewer than 10 observers Sunday, said he still doesn't understand the necessity, even after listening to the rationale.
Days before the vote, Election Commissioner Somchai Srisuthiyakorn revealed that 5 percent of the vote would go unreported Sunday night, an unprecedented mechanism he explained as sparing the possibility of any significant discrepancies between the early electronic returns and the official results to be released by the commission up to three days later.
But given that the margin of victory or defeat may come down to a few percentage points, such discrepancies could prove critical.
For that reason, Somchai warned that the public must wait if the returns prove too close to call.
"If the result is a victory of not more than a million votes, then we'll have to wait for official results. If it's more than that, then there's no need to wait," Somchai said.
There are about 50.5 million eligible voters.
In reality, he said, he will be surprised to see more than 80 percent of the vote come in through the app, due to technical problems and his belief that about 5 percent of the 95,000 voting stations may lack phone signals.
Somchai has stressed election officials are above the fray and will not permit any regime interference.
The commission has been accused of taking sides before, most notably the last time it was tasked with staging a vote: the 2014 general election disrupted by anti-government protesters and later annulled.
Yingcheep Atchanont of the Internet Law Reform Dialogue, or iLaw, was more circumspect. He said it's still better to have some rough idea of the outcome Sunday than nothing.
Read: We Took Top Concerns About Sunday's Referendum to Elections Officials
"But if the official results turn out the opposite of the unofficial count, then they must be able to explain why," Yingcheep said.
Rangsiman, the student pro-democracy activist, said measures should be taken to ensure that the unofficial votes filed from polling stations through the Rapid Report application are done transparently and in a way that can be independently verified.
Pongsak, the regional poll observer, also wondered the results keyed in through the app could be verifiably matched with the manually counted numbers.
However, a former election commissioner, Gothom Arya, was more sympathetic to the commission's system. He said those worried something may go wrong should go out and monitor their neighborhood voting stations and take pictures of the posted results for possible random check at a later time.
He doesn't believe there will be foul play through the app or the unofficial results to come out Sunday.
Somchai said cross-referencing polling station tallies with the Rapid Report results would be impossible, as the app does not publicly report things at the precinct level, only provincial.
'Vote at the Barrel of a Gun '
With the referendum on the junta-backed charter draft three days away, two foreign groups since Wednesday have dismissed the whole process as undemocratic and not genuine.
Charles Santiago, chairman of rights group ASEAN Parliamentarians for Human Rights, issued a strongly worded statement Thursday morning.
"This is not a referendum in any genuine sense of the word. This is not a democratic process. It's a forced vote at the barrel of a gun following a campaign in which the authorities have sought to actively thwart informed debate," said Santiago, a Malaysian MP.
His peer from the Philippines, former congressman Walden Bello, also weighed in.
"The junta has failed to heed any requests for a fair and open debate and stubbornly ignored basic international standards for conducting this kind of referendum," Bello wrote. "It seems that the Thai people are damned if they do and damned if they don't approve this constitution. Gen.  Prayuth [Chan-ocha] and his council of elders clearly have no intention of willingly ceding their grip on power, and so they have provided the Thai people not with a clear choice, but a dangerous Catch-22."
Meanwhile, the Paris-based International Federation for Human Rights and its Thai partner, the Union for Civil Liberty, issued a statement Wednesday saying there would be "zero credibility" to the results.
"The NCPO's manipulation of the constitution drafting process is reflected in a document that legitimizes the influence of the military and unelected elites over Thailand's political system," wrote  federation President Karim Lahidji, referring to the junta known formally as the National Council for Peace and Order. "The NCPO's heavy-handed actions in silencing criticism of the draft charter will result in the vote having zero credibility if the draft is approved."
Related stories:
Somchai Regrets Taunting Gravity With Ballot Box Bravado
How Referendum Sunday is Supposed to Go Down, Step-by-Step
We Took Top Concerns About Sunday's Referendum to Elections Officials