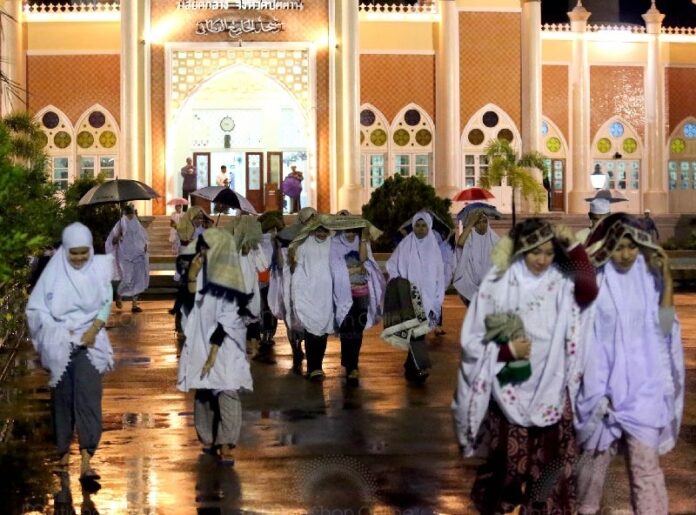 BANGKOK — Governors in every province were asked Thursday to counter rumors circulating among some Muslims that their faith will not be respected in the proposed constitution being put to referendum on Sunday.
In an urgent order issued and made public Thursday, the Interior Affairs Ministry said an audio clip is spreading "distorted" facts about the new charter, though a longtime Muslim politician said officials were overreacting.
Buddhist Scholar Warns Against Establishing National Religion
"Each province must inform its provincial Election Commission and Islamic Central Committee to jointly discuss the issue, arrange a solution and create understanding with the public for them to know the correct facts," the order said.
It went on to suggest officials ask Muslim clerics to spread the "correct understanding" about the charter's clause addressing freedom of religion, which gives Buddhism special status but falls short of establishing it as state religion.
The order left unsaid the specific accusations being spread online, other than saying the clip alleged the junta-backed constitution violates the principles of Islam.
Areepan Uttarasin, a former MP who represented his home province of Narathiwat back in the 1980s, said he's heard the audio clip after someone forwarded it to him over the Line chat application.
According to Areepan the unidentified speaker said the new constitution would only protect Buddhism as a national religion and disenfranchise other minority religions. The clip was shorter than two minutes, the politician said.
"He didn't exactly distort the constitution. He was merely putting his feelings into his speech. It's like he was giving his own interpretation of the constitution," said Areepan, who belonged to a Pan-Islam political bloc called the Wadah. "This constitution uses this kind of language, so people of other religions are upset. And Muslims feel like they aren't accepted."
Although the new charter draft, like its predecessors, guarantees freedom of religion, it confers privileged status to Buddhism.
While the previous 2007 constitution broadly instructed the state to "support and protect all religions," the proposed one specifically calls for the state to spread the teachings of Buddhism. And not just Buddhism in general, but the pro-state Theravada sect only.
The state is further required to defend the sect from any "threats."
Meanwhile freedom of religion now has a condition: A religion must not "pose a danger to the security of the state."
Areepen said the state should not overreact to the clip because it's the interpretation of just one person.
"The state is treating this as a big issue," Areepen said. "I don't want them to pay too much attention to this. This kind of issue, it happens. Each person interprets it their own way."
Related stories:
Thai Army Mistook Islam Summer Courses for Terrorist Meeting
Muslims Slam Allegations of Plot to Destroy Buddhism
BKK Airport Apologizes for Searching Muslim Cleric's Headwear